God's World News will provide news and interesting information for children - biblically, appropriately, and vibrantly - so they can grow in their understanding that God has the whole world in His hands. ~ God's World News' Mission Statement
God's World News
is a monthly magazine, published ten times a year, with a Christian worldview. It covers current events and ties in many different subjects for a nice, well rounded study that I believe will complement any homeschool curriculum. The issues are available for Pre-K all the way through highschool. Below is a cover shot of all the available grades. For this review, we received
News Flash
which is geared for grades 3 -4.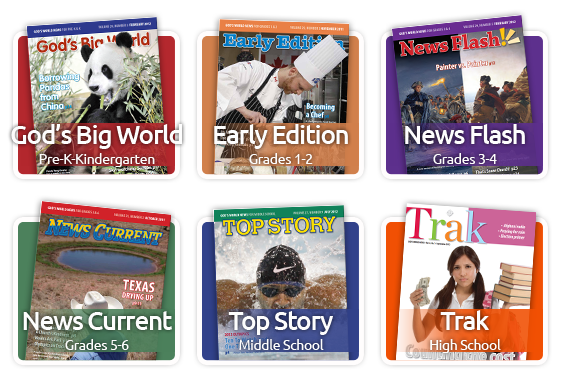 Online Resources for Parent/Teacher:
Not only is there the print issue that arrives ten times a year, but there are also many online features to this magazine, too. For example, God's World News offers in-depth study lessons on one or two topics featured in it's magazine. For October, the featured lesson in
News Flash
is on The Ames Room Trick. This lesson explains how the trick works, how our senses can be fooled, offers a Bible2Life section that applies what we've just learned to a biblical worldview and ends with a five question quiz. It's a wonderful, ready made lesson plan that can be shared via email, with your Facebook or even twitter friends, too!
God's World News also offers an online biography at least biweekly, too. The one featured in the magazine is highlighted online along with the others in digital format. The digital versions are offered in a downloadable, printable PDF. Most of the ones we've used so far have also featured a puzzle of some sort (with answers!) at the end, in addition to about a two page informational article on the person featured, with a photograph of that person, a Bible2Life section and quiz, too. I love that these ready to go lessons that are emailed to me. I can also look them up on the website, too. There are many biographies archived and accessible online.
Online Resources for Kids:
God's World News also offers a new website,
http://kids.wng.org/
just for kids. It's a safe place for kids to explore with many topics: MySci (science), Creation (nature), TimeMachine (history), PeopleandPlaces (cultural, etc.), KnowMe (biographies) and FunStuff (puzzles, etc.).
The Print Version and a Wall Map Delivered to Your Mailbox: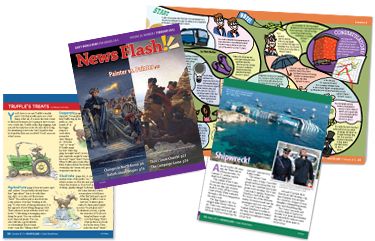 I like to sit down and hold a magazine. Reading online is great, but also sitting back in a comfy chair with the little ones gathered around and flipping through the pages is nice, too. (We've even read our print issues sitting outside on our picnic blanket.)
I've been pleased with our
News Flash
magazine. I've found it is completely appropriate for grades 3-4. My younger children have listened in on the stories and enjoyed them as well. We love the Map-It! sections (We gather around the wall map that was delivered with our September issue of
News Flash
and find the Map-It! place we're reading about in the magazine.), Bible2Life sections are fabulous for discussion from a biblical perspective and of course the fun puzzles (answers can be found online) which are truly geared for the target age range of the specific magazine, and all of the great articles spanning many different topics and interests have been a big hit with all of our little ones - ages 5, 7 and 9.
Our Map-It wall poster
Pricing:
A full year
subscription
of 10 issues, with access to online content is a steal at $28. There are online, full samples of each magazine and corresponding online lessons, too. Be sure to check those out!
Final Thoughts:
It's nice to read a magazine with a Christian worldview focus and be able to discuss the topics with my little ones. The current events and the science discoveries and biographies and cultural aspects of this magazine are wonderful conversation starters and I am truly thankful for this resource. I also appreciate the extra online lesson features. It's nice to have a ready made lesson at my fingertips.
Extra Pictures from our News Flash editions: