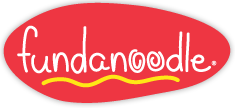 Fundanoodle
is a company developed by two Occupational Therapists (OT) to help develop the skills and strength needed to write. Once I heard who developed this curriculum, I knew I wanted to try something from this company with my kindergartner. You see, we have OTs in our immediate family who have spent years working in the school system - knowing how wonderful and amazing OTs are made Fundanoodle even more of a
must try
for me!
So for the past several weeks, Jonathan and I have been reviewing
I Can Write Uppercase Letters
and their
Magnetic Dry Erase Lettering Practice Board
which is designed for ages Pre K to K.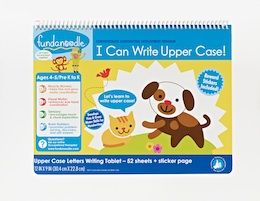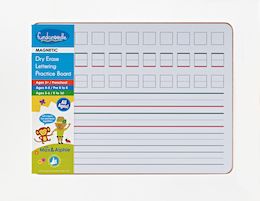 Jonathan is just beginning to write his letters. He has decent control, but he needs a lot more practice with formation and endurance.
According to Fundanoodle, the benefits of I Can Write Upper Case! include:
improves strength, control, and endurance with writing tools
promotes correct top to bottom formation of strokes
builds confidence in your child as they learn handwriting
encourages self-expression and creativity
All valuable skills we need to work on!
The first couple of pages shares tips and instructions for using the fundanoodle workbook. For example, the letters are introduced in a specific order "according to a child's development of visual and motor skills" and the green top line means
Go
and the red bottom line means
Stop
. A cute little monkey named Max gives instructions at the top of each page. For example to make an upper case L, Max states to : 1. Zip Down and 2. Zip Across.
Once an instruction page is completed, there is a reward spot for placing a sticker that begins with the letter your little one is practicing. We've been able to added in a little bit of phonics instruction with our writing lessons each day, too! Not only would we practice the letter sound during our writing lesson, we would also say the alphabet as we searched for the sticker with our practice letter on it. Reward stickers are a definite hit for Jonathan!
The first day, I encouraged Jonathan to complete the whole page which was much more than what he was used to writing. He did it, but I found in the lessons to come that completing a full page is a little too much right now. So, he would complete the first three lines and save the last two for the next day.
After the first 25 letter instruction pages of the whole upper case alphabet are introduced, there are another 20 + pages of six different A - Z practice pages. There are also reminders that you can work on just one row at a time.
Here is an example of a couple of practice pages at the end:
We've enjoyed having the
Magnetic Dry Erase Lettering Practice Board,
too. We love having the ability to have as many practice pages as we want! We also own magnetic letters and using the blank back side of the board to play with those has been super fun, too! We haven't decided which we like to write with the best: the markers or the slimmer dry erase pens.
Final thoughts:
I can tell Jonathan's endurance is getting better. Before Fundanoodle, he was used to writing a letter about fifteen times per lesson. I think we will be able to handle a full page of work very soon, which is roughly writing a letter about 50 times! I can also tell his penmanship is improving. I am extremely pleased with his progression using Fundanoodle!
Pricing:
I Can Write Upper Case Letters!
is only $5.99 and the
Magnetic Dry Erase lettering Practice Board
is $9.99.
There are many different products offered by Fundanoodle from roughly age 3 to first grade. The Crew is reviewing many of them.