"Think you have what it takes to be America's next President?"
Our family loves to play board games, but we don't own any that are political in nature. When our nine year old looked over
The Presidential Game
's website with me, she declared, "We must play this game!"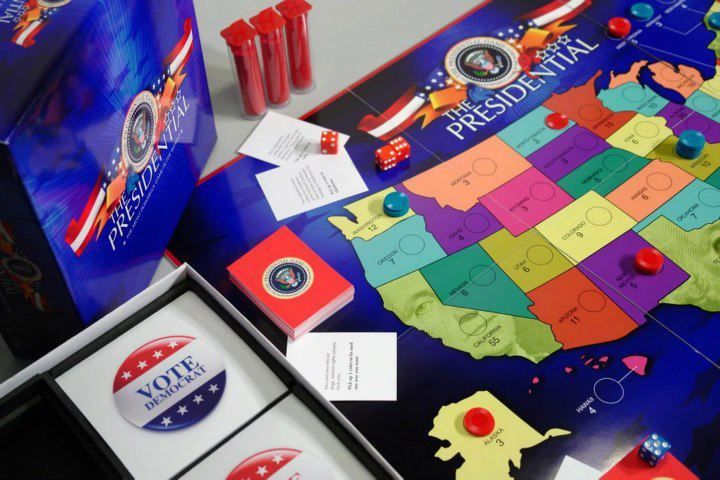 The game board is a current Electoral Map of the United States.
What is it?
Winner of multiple awards,
The Presidential Game
is a family game of strategy between two teams, the Democrats and the Republicans. The Electoral College comes into play as each team vies for control of states by winning more than 270 electoral votes, out of a total of 538, at the end of the game. Votes are gained (and lost) by either Fundraising or Campaigning.
What's Included:
1 20" x 30" game board, 1 score pad, 3 blue dice, 3 red dice, 80 Politics Cards, 40 Write-Your-Own Politics cards, 150 Republican votes (red chips), 150 Democrat Votes (blue chips), 1 Electoral Webmap Calculator access code.
How to Play:
A full set of directions can be downloaded on the FAQ's page of the Presidential Game.
Simply put, on each turn, a team decides whether they will go Campaigning or Fundraising.
If Campaigning, the team chooses any three states to campaign in. Three dice are rolled. Your team decides after the dice are rolled which dice will correspond to each of your chosen three states. The number rolled will be the amount of votes given to that state.
If Fundraising, there are only four states available, NY, CA, FL and TX. Your team will choose one. Then roll two die. The total number rolled is the amount of votes you've "won." Your team can choose to keep all of the votes for your Fundraising state or put half the votes in the Fundraising state and then spread out the remaining votes to other states in any way the team wishes. Then, a Fundraising card is drawn. Most of the cards are hilarious. But, in my opinion, this is the part that can make this game a little more adult oriented, due to wording of the cards. There are forty blank fundraising cards that can be used to remedy this situation and plenty of original cards that are kid appropriate.
An example of a Fundraising card might say:
Your uncle gets drunk on cheap beer at a political picnic. Your opponent adds 1 vote to Georgia. * Play immediately.
You favor legalizing marijuana. Add: 2 votes to California, 1 vote to Alabama, 1 vote to Georgia, 1 vote to North Carolina, 1 vote to South Carolina
So, those cards
I
wouldn't keep in the Fundraising card pile to play with
our
little ones, but the ones below are examples of cards that are appropriate for
our
children to play with.
Your opponent is interviewed by ESPN but forgets who won the Super Bowl, even though it was his/her home team. Pick up 4 votes to be used any way you like.
Your opponent catches the flu while on an official visit to Japan and vomits at a State Dinner. your opponent's health is questioned. Pick up 4 votes to be used any way you like. (sounds familiar, huh.)
There is an online
electoral webmap calculator
for the game, too. Or, a paper and pencil score card is included with the game if you prefer.
Example of the Electoral Webmap Calculator
The game includes an optional score pad
(I had to read the directions a few times, mock play a few turns to get the hang of how to play, and practice keeping score a few times, too.)
How We've Used this Game
:
I would consider this game to be moderately complicated and correctly aged for eleven years and up. Even though our oldest is about a year and a half younger than the recommended eleven years old to play, she was still successful and had fun with the game. We even brought in the little brothers (five and seven) to play along, too. Their main contributions were rolling the dice, picking cards, states and counting chips/votes.
I dare say we've all improved our US geography skills, learned a lot about the Electoral College and the election process, too!
We would generally play a seven week game. It would normally take our young family about thirty minutes to play those seven turns. The Presidential Game suggests a 30 week game would take about an hour.
Pricing
:
The Presidential Game
retails for $35, plus shipping.