"We believe parents and teachers should understand and teach to their children's strengths and use strengths as a springboard to teach study skills and plan realistic/fulfilling career paths."
~ PeopleKeys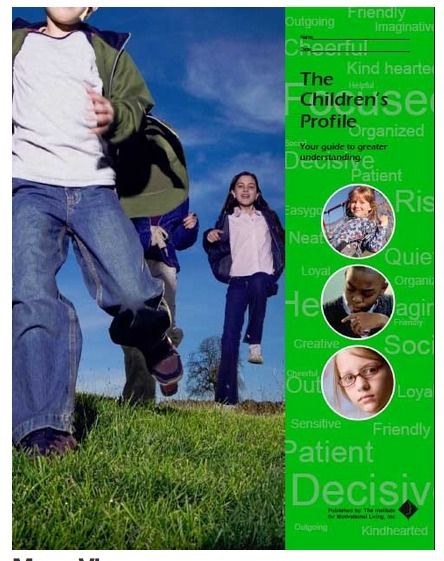 PeopleKeys
is a company that has spent over 25 years studying human behavior, personal preferences and strengths. They use a system called DISC to analyze individual's personality types.
DISC stands for:
D - Determined
I - Influencing
S - Steadfast
C - Conscientious
According to
PeopleKeys
, all of us have a little of each DISC sprinkled into our personalities - with one or two major influences or blends
from the above list.
Caraline, nine, and I used
The Children's Profile
to help identify both of our personality styles and to learn more about each DISC. Learning more about the different personalities of people is helpful in not only determining how to respond to others but also what to expect from them, too.
The Children's Profile workbook is a wonderful introduction to psychology for little ones. It's intended for children nine - thirteen years old.
Pricing:
The Children's Profile
is $15 and is 25 pages long.
How We Used People Keys:
Filling out the DISCover Your Personality Style and Graph
As recommended in the workbook, I completed the DISCover Your Personality Style and Graph first. I didn't fill out my scores on her workbook though. I, of course, left that blank for her to do. We discovered we are very much the same, even our
blend style
. - We knew that already, but it was neat to see it "verified" by DISC.
Then, we learned "What is Personality" followed by a short introduction to all four personality styles followed by a more in-depth (four pages each) discussion on the different styles. The last page for each style encourages one to try to think of people or even a cartoon character with that type of personality. A few examples are given to get you started. For example, a judge is considered
determined
, a sales person an
influencer
, a nurse
steadfast
, and a computer programmer
conscientious
.
I read through all the information in the workbook with Caraline and we discussed each personality together. The last two pages feature an
Action Plan for Getting Along Better With Others
with an example.
We took about three days to finish this workbook. It took us through the different facets of each personality style on a level she could easily understand. We learned what each is bothered by, motivated by, phrases to encourage and so much more. We gained a lot of insight and understanding on her brothers', friends', and other family member's personalities as well as our own from going through
The Children's Profile
. It was a fun experience.
Be sure to look at the four example pages from the workbook found on
The Children's Profile
page.
Thoughts from Caraline:
I learned how to be a better friend, how to interact with different people, and how to better understand them. Knowing how I can help encourage others and how to better get along with them makes me very happy and pleased. Knowing that I am pleasing God, because He wants me to get along with others and encourage them, is also comforting.
There are several other items from PeopleKeys being reviewed by the crew. Be sure to check them out!