"The untold story of the woman who wrote the Little House novels..."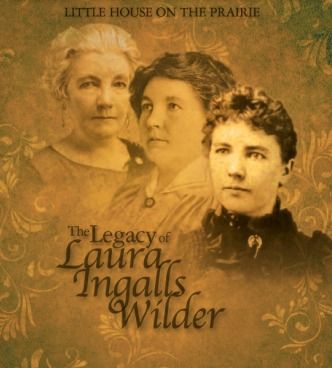 Our family adores the
Little House on the Prairie
novels, and we recently reread
Little House in the Big Woods
just before our family vacationed- in a log cabin and in the middle of what we would consider, the big woods. Additionally, when
Little House on the Prairie
, the musical was on tour with Melissa Gilbert, our four and seven year old (the baby was only two) just
had
to go! That's a night we will always remember fondly.
So, when the opportunity arose for us to review the Telly Award winning
Little House on the Prairie: The Legacy of Laura Ingalls Wilder DVD
, we were all very excited! This is not just a documentary on the life of Laura; it is so much more.
And who better to tell Laura's story than Dean Butler, best known for his role as Almanzo Wilder in the Little House on the Prairie television series that I and so many others in my generation enjoyed watching as a child. For this project, Mr. Butler changed hats from actor to producer with Legacy Documentaries.
Now, I must admit, I had never researched the life of Laura Ingalls Wilder. I naively thought her novels were more of an autobiography of her life. I was surprised to learn that the Little House on the Prairie novels are actually historical fiction. Not everything she wrote about actually happened the way it was written in her real life. For example, did you know that Nellie is based on (gasp) more than one person Laura knew? Not too hard to imagine that one since Nellie was such a character.
Hearing and seeing Laura's story come to life in this DVD was fascinating.
Learning the not-always-pleasant role Laura's daughter Rose, an accomplished novelist, played in her mother's writing adventure was certainly intriguing. I also liked the way the documentary showcased each of Laura's novels with behind the scenes information along with a synopsis of the story. The music for the documentary, interviews, paintings and on-site reenactments - absolutely everything about the cinematography was beautiful and well done.
See for Yourself!
Pricing:
Little House on the Prairie: The Legacy of Laura Ingalls Wilder DVD
retails for $24.95
The bonus content on this DVD includes: a Documentary Director's Diary, the Almanzo Wilder: Life Before Laura Trailer and PA's Fiddle: The Music of America Trailer
Final Thoughts:
This documentary is recommended for the whole family with a target audience of eight to thirteen years old, which happens to be the reading age for the novels. I will tell you our boys, five and seven, sat through the full hour film as easily as our nine year old daughter. There was one small portion of the film that they questioned. The controversial knife scene in
The Happy Golden Years
, which we haven't read, was discussed and I had to pause the DVD and reiterate that no one was physically hurt. Making sure that everyone was OK was paramount to our little ones and they insisted on a brief pausing to further explain.
We learned an immense amount about Laura, her family, and her writings from this documentary. It is entertaining, educational and certainly a very good addition to any home with a love for all things
Little House on the Prairie
.
For those of you with an interest in Almanzo, there is a documentary based on his life available through
Legacy Documentaries
.
Almanzo Wilder: Life Before Laura DVD
retails for $21.95. You can read reviews on both the Laura and Almanzo documentaries by clicking the banner below.
~Hope