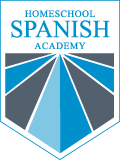 Our second grader and fourth grader have been taking online Spanish classes together with a live teacher
in
Guatemala. How super, super cool is that?! The name of the program is
Homeschool Spanish Academy
. This online school has been such a fun way to explore Spanish
and
my children are learning by leaps and bounds! (If you've been following me on Facebook or Twitter you already know how much we love it!)
Here is an quick overview of the program:
Our little ones are taking classes under the
Early Language
,
1A curriculum
for ages five to eight. (HSA offers classes for age five through adult.) Since our oldest is nine and youngest is seven, I chose the class that targets the younger of the two. Ryan, our seven year old, hasn't had any formal Spanish lessons. Caraline has had some, but it's been a while. So, the first few classes were a little easier for Caraline. The material is challenging, and Ryan is doing an excellent job being the brand new Spanish student. He participates in class, and he is retaining so much information! This level has been an excellent fit for both of them!
What you will need for class (from the HSA website):
An internet connection
Skype* installed on your computer
Skype compatible computer headset with microphone (We use the built in microphone and speakers on our computer. ~ Hope)
Webcam (recommended)
*Skype is a free download, the world leader in internet telephony, and allows you to talk and learn online
Scheduling classes that fit our schedule is so easy!
I schedule our lessons according to what is convenient for us. We are not held to a certain day or time. So, for example, our class doesn't always have to meet on Mondays from 1:30 - 2:00. It can if we wish, but scheduling is totally flexible. And, as long as a cancellation is made twenty-four hours before our class is scheduled to begin, we can reschedule. - There are tutorials available for how to schedule classes, cancel classes, and so much more on their website. It really is a simple process. We are also free to choose the instructor of our choice for each lesson, as long as they have an open time slot that works for our schedule. Before the first class, a tech support call is made via telephone and Skype to make sure technically everything is ready to go for class. Our tech support call lasted maybe five minutes.
What a lesson is like:
About ten minutes before our class, I make sure everything is ready to go on the computer and log into our Skype account. And right on time, we are video called over our computer via Skype. We answer our call and the kids begin their twenty-five minute lesson.
(Once, our doorbell rang a few minutes before class, and we all got totally wrapped up in visiting with our friend. Time slipped away, and I forgot our lesson! Thankfully, our instructor called our home phone and within five minutes of our scheduled start time we were online and ready to go! Our friend sat quietly and listened in on the lesson. She was impressed!)

The children attending class via Skipe with Senora Rosa.
The kids are able to see and speak to their teacher face-to-face and their teacher can see and speak to them - in real time. Along with speaking face-to-face to teach the children, the instructor also goes through PDF slides that are shown on screen. She is able to highlight portions of the PDF being taught, also. That same PDF is available later in the day, under
assignments (
in a special
,
log in area)
on the
Homeschool Spanish Academy
website
as a download for me. An email is sent as notification when the PDF is ready to view. I use the PDF for oral review work during the week and we usually go over lessons from previous weeks, too. Lessons tend to build upon themselves, so review of previous lessons is seamlessly incorporated into the new lesson.
An example of what the live PDF portion of the lesson looks like.
What my log in area under Classes looks like. The menu options are Home, Assignments, My Planner, Schedule, Registration. Reports and Feedback are empty menus for us.
I always sit where I can see the screen and listen in on the classes, which is recommended for the younger students. I love that their teacher can meticulously tell via Skype when the children have a mispronunciation (for example, pronouncing the silent h) and practices with them in a very gentle manner. Our teacher's English and Spanish pronunciations are also very clear and easy to understand. The lessons are personal, too. We wanted to know how to properly pronounce a Spanish friend's name (Naidely) and our instructor happily obliged.
Pricing for one student:
Pricing for paired students (paired students must be within three grade levels of each other):
Final thoughts:
From Caraline (9):
The thought of being able to one day speak and write to our sponsored friends Melany and Naidely, who live in Ecuador, gives me encouragement to try hard to learn Spanish. I think it is neat that our teacher in Guatemala is so much closer than we are to Ecuador! So far, I've learned greetings, a lot of fruits, vegetables, and numbers. My teacher is patient and kind. I love that she is live over our computer. It is fun when Senora Rosa asks us questions. Her name is easy to say, also.

From Ryan (7):
My classes are great! My teacher is really cool.

My thoughts:
I love everything about Homeschool Spanish Academy. My husband and I had the pleasure of meeting the founders at a Homeschool Expo this summer. Hearing their mission and how the
company began
was truly heart warming.
I also love that the teachers keep detailed notes and if we happen to need to schedule a class with a different instructor, that person can take the next class over with no problem. In fact, the schedules were fairly open and we could book about a week in advance when we began our sessions. Now, we have to book about six weeks in advance. To accommodate this increase in demand, a new teacher is being added to the roster as well as a temporary teacher that has previous experience working with Homeschool Spanish Academy.
My kids are interested in Spanish, interested in learning more about Guatemala, and they adore their instructor and count her as a friend. We will certainly continue our classes with Homeschool Spanish Academy!
~Hope