My husband works in the technology industry. We understand the importance of our children knowing the fundamentals of computer programming. Thanks to
Motherboard Books
, computer programming is now a subject that can be easily taught in a fun and interesting way, by the homeschool parent with zero programming knowledge (like me!) or learned independently by the older child!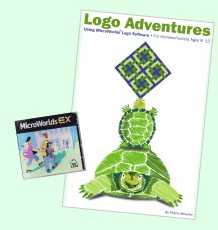 When our 9 year old and I had the opportunity to review Phyllis Wheeler's
Logo Adventures
, we brought Daddy in to take a look at this one-year, once a week curriculum. He thought Logo Adventures would be a wonderful curriculum for Caraline to explore. We all love the idea and philosophy behind learning the Logo language!
Here's a brief history. The Logo computer language was developed at MIT to be a first computer language for kids and specifically for children to be able to learn
reasoning skills
in a fun way. In fact, Logo is the language many computer programing professionals learned first!
So what exactly is Logo Adventures?
Here's a quote from the author:
Using our Logo-based homeschool curriculum, kids have a blast creating geometric drawings, creating simple animations, and combining those skills to create a "board game" and an animated greeting card. While having fun bossing the turtle on the screen around, the kids are learning logic painlessly. Sound like good brain exercise? You bet! ~
Motherboard Books
The
Logo Adventures curriculum
includes a spiral bound, 120 page instruction book and the MicroWorlds Ex program disk. If you already own MicroWorlds Ex, there is an option to leave this off of your curriculum package. Be sure to take a peek at
the Table of Contents
and
a sample lesson
, which is Lesson 3: Drawing Figures. Logo Adventures was designed for children ages 8-12.
How did we use Logo Adventures in our Homeschool?
When our package arrived in the mail I quickly downloaded MicroWorlds Ex onto our laptop with Caraline close beside me. She was anxiously anticipating her first Logo Adventures lesson.
I do sit with her and we go through the lessons together. Caraline could probably do the lessons independently since the step by step directions are clear, but I enjoy learning beside her. And when she does have questions, I am not totally in the dark on how to help out.
Caraline loved the first lesson so much, she spent another hour just playing around with the knowledge she'd just learned! And everyday for the first week, I'd find her on our laptop playing around in MicroWorlds EX. I secretly wondered if as soon as the new wore off, if she'd grow tired of it-- weeks have passed and she's is still loving Logo! ~ Daddy has been able to sit with Caraline through a couple of lessons, too. As a tech savvy guy, he gives this program a big thumbs up!
Caraline thrives on being able to reason and figure out her own ideas and lines of program language to try. This is one of her favorite activities and quite often why a single lessons takes longer than one hour! She frequently will say, "Ok, now I am going to try an idea I have." I love when this happens!
Below is an example of a portion of Caraline's lesson #3, the
sample
lesson. The
fuzzy circle
in the middle, the colored background and the colored line is from the actual lesson. The colored fuzzy circle with triangle or
bird
is an original creation.
In case you are wondering, Logo commands are typed into the bottom left rectangle.
True learning happens when original ideas and inspiration flow into a lesson. Logo Adventures inspires Caraline!
Final Thoughts:
I am very impressed with how our 9 year old has taken to Logo Adventures and the depth of knowledge she is gaining. She can successfully program on her own and is looking forward to continuing Logo Adventures to completion. We will certainly be looking into the next level of Logo Adventures, too!
Pricing (at the very bottom of the highlighted page):
Logo Adventures EX Curriculum
which includes the instruction book and MicroWorlds EX is $129.99, plus shipping.
Logo Adventures
instruction book only - for those who already own MicroWorlds EX is $29.99, plus shipping.