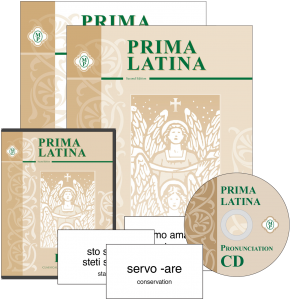 I've struggled to find a good Latin curriculum for my little ones. Latin is a language that I definitely want my children to learn. (If you are wondering
why Latin is important, this article by Cheryl Low
is great!)
Thankfully, we were given a chance to review
Memoria Press
' complete
Prima Latina
Curriculum! (I've found a winner!)
What is Prima Latina?
Prima Latina is an introduction to Christian Latin. According to multiple sources on the website, it is designed for early elementary students in grades as early as Kindergarten and as late as fifth grade, but generally second through fourth. I am using this with Caraline, a beginning 4th grader and Ryan, a beginning 2nd grader. Memoria Press recommends starting Prima Latina when a student is reading well, and according to their website, that typically happens around second grade. (Our five year old, non-reader is also listening in on our lessons and he is picking up some vocabulary, too.)
There are twenty-five lessons and a review every fifth week. Five vocabulary words are introduced each week, along with a line or two of a Latin prayer or hymn. English Grammar is taught along with Latin Grammar, as well as derivatives and a practical Latin word.
Completing one lesson a week is suggested, whether that one lesson takes five days or one depends on the students' and teacher's preference. For older students, they may finish in a semester. Younger students may take a full year or even two. The goal is to master the information being taught and to go at your student(s) pace.
What is Included with the Complete Prima Latina Set?
The complete set is pictured above. You will receive
Teacher Manual
Student Book
Pronunciation CD
Instructional 3 disk DVD set
and Flashcard set
The Teacher Manual is a wonderful resource. It has fabulous teaching guidelines (with hints and ideas that I reread often!), a sample lesson plan, five tests - both blank and with the answer key, plus the answers to all of the worksheet pages are typed in the appropriate blanks. Also different from the Student Book is a reproducible Vocabulary Drill sheet.
The Student Book's worksheet pages are not busy work in my opinion. The lesson worksheets help greatly with cementing the content to memory. Add in the Vocabulary Drill sheet and the knowledge isn't going anywhere. I love that the information taught in each lesson is included in the Student Book also.
The Pronunciation CD is great for practice! It's nice having a resource on my iPod that I can replay anytime we want a refresher to make sure we are pronouncing our Latin words correctly.
The DVD's, for me, are a must! They are a valuable piece of the puzzle to really get the knowledge into my little ones' - and my brain! Who wouldn't love being taught by the author (the expert) of the curriculum!!
Scroll down to watch a sample of the DVD here!
The three DVD's total 9 hours, and each lesson is about 10-15 minutes long.
The flashcard set is two sided (Latin on one, English on the other) and used for both Prima Latina and Latina Christina. You'll have to go through and pull out (they are printed on perforated card stock) the ones that you need for Prima Latina because they are not in the order of the Prima Latina book. They follow the order of Latina Christina. - Certainly not a big deal.
How are We Using Prima Latina?
We generally complete one lesson in two or three sessions. We always start by watching the lesson on DVD - which by the way is easy to navigate. I will confess, the first time we watched a lesson my children wanted to check out before it was done. I on the other hand LOVED the DVD lesson and was so very thankful to have Ms. Lowe teaching in my home! After about two weeks, the kids warmed up to having lessons taught by DVD,
AND
they actually look forward to them now! I think that since this was a new teaching format (DVD lesson
without
cartoons) for my little ones, it threw them off at first.
See how laid back and relaxed they are now =)
I will say, that even though they complained a little bit through the first couple of DVD lessons, they could still answer the questions in the workbook fairly easily. They could also answer oral quizzes I would give them at random times through out the day. So, Ms. Lowe's teaching style and sense of humor works! I also love how encouraging she is to the students.
After watching the DVD lesson and following along in the workbook, we would listen to the Pronunciation CD for extra practice. Then we would proceed to completing one workbook page.
During our next session, we would use the flashcards for review and again listen to the Pronunciation CD. For our third session, we would reread the lesson in the workbook together (generally two pages) and complete the second worksheet page. If I felt a need to re-watch the DVD at any time during our week, we would.
Caraline is a great writer. She's comfortable writing the answers in the Student Book. We usually discuss the worksheet questions orally, and then she fills out the worksheet pages -usually with at least one little brother watching. I consider the Student Book hers.
Ryan is really coming along with his handwriting - but like many boys his age, while his fine motor skills are still being sharpened, he is a reluctant writer. So at this point, I don't mind doing his work or quizzes orally from the Teacher Manual.
Whatever workbook time Littlest Brother sits in on, I consider icing on the cake since he isn't a reader or writer just yet.
Ryan enjoys his turn quizzing sister and Mommy with the flashcards!
What I think:
I think Prima Latina is a solid program that truly teaches Latin in a way that the students remember. I appreciate that it is taught with a Christian focus, and I love that Ms. Lowe teaches this class for me!
DVD is definitely the way to go!
We will certainly keep working through this curriculum and as Ryan becomes more comfortable with printing, I will get him his very own workbook, too.
Pricing:
Prima Latina, the complete set
is currently $90.90. The components may be purchased separately.