We have been reviewing a super awesome
and
educational card game from
Birdcage Press
. The title is
Wild Cards: Baby Animals Around the World
and it's geared towards anyone over 6 years old. I would venture to say even younger kids would love this card set! Our five year old sure did!
Now, when the chance came up for us to review this item, my nine year old daughter went crazy over this set because there is a cheetah featured in main picture! She has been a cheetah lover since she was three years old! Our other children are big animal lovers, too. So this card set seemed like a perfect fit! And it surely has been!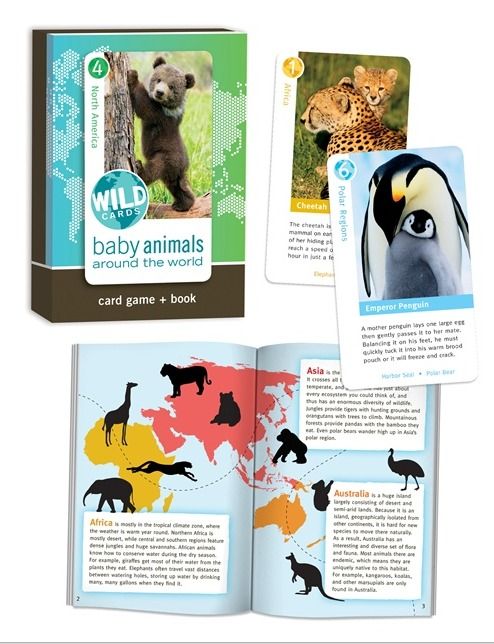 What's Included:
A really nice box containing 38 animal cards and a 28 page fact book is
what's included
. The booklet features a full page of excellent, fact filled information on each animal showcased on the game cards. Each animal bio in the booklet features a quote, and an I live and I eat section in addition to two or three paragraphs of interesting and detailed information on the animal. The booklet also has a page devoted to "Baby Animals Around the World" and three pages of information about Africa, Asia, Australia South America, North America and the Polar Regions consisting of about a paragraph each. The information is interesting and fun to read.
The cards themselves are sturdy and the photographs of each animal are absolutely beautiful and of very high quality. There is also a little fact blurb below each animal's picture, along with the region the animal can be found written along the left side margin and a number that corresponds to the region the animal lives is located in the upper left hand corner. At the very bottom of each card are the names of two animals. These two animals refer to the two other animals in the card set that are from the same geographical region.
Suggested Games:
Silly Sloth (2 or more players): Caraline, Ryan and Jonathan have long been lovers of the game Old Maid. This Wild Cards set has an adaptation called "Silly Sloth". There are two Sloths in the card deck, we remove one of the sloths and the other stays in the deck. This will become our "Old Maid" or Silly Sloth! I can tell you that this by far has been the favorite game of our children. We played at least ten games of "Silly Sloth" as soon as we opened the package ~ which is beautiful and sturdy by the way. It's always so much fun to see who will end up holding the "Silly Sloth" at the end~ lots and lots of laughter for sure! The first few times we played, we would read about our matched animals in the included booklet. A full set of directions for how to play "Silly Sloth" is included on page 24 of the booklet.
Animal Memory (2 or more players): This game is played just like "Concentration". I would choose anywhere between ten and twenty cards (for Jonathan) or more (for Caraline and Ryan) to play. There are a total of 36 animal cards or 18 matches. Concentration has long been known for it's positive benefits on brain development! All three enjoy Animal Memory, too!
Go Fish for Baby Animals (for two to three players): This game is also played like the traditional game of "Go Fish". This is also a fun game! And a close second favorite for Ryan. There are numbers in the top left hand corner of each card that represents which continent the featured animal is from. At the bottom of the card there is a list of two other animals. These animals are the two others that make up the continent set, or simply put are also from the same continent. For example, for the cheetah card the number in the top left corner is a 1. The two animals listed at the bottom are elephant and giraffe. Your goal is to get a complete animal set. So for Africa, area #1, you'd need to gather, in true Go Fish fashion, an elephant and giraffe to complete your animal set. Whomever gets the most complete sets wins!
What we think:
We LOVE Birdcage Press' Wild Cards: Wild Baby Animals Around the World! We have had the most fun using this as a family, and it's a wonderful travel companion, too! We took our set on vacation with us! It's rather compact size and sturdy packaging is perfect for taking along on trips.
We are all looking forward to reading the other reviews from the Crew. Each little one has already picked out which Birdcage Press card set(s) they'd like next. I have my eye on a few, too!!
Pricing:
Wild Cards: Wild Baby Animals Around the World
is currently $10.95