Supercharged Science
has a fabulous online science curriculum,
e-Science
, for homeschoolers. I am a science girl. I have loved science for as long as I can remember and decided on a nursing degree in college. Thankfully, I have three little ones that adore science, too! This project-based, video-based, text-based online curriculum has been fabulous for all of us, Pre-k to adult! Everything from what is the scientific method, to chemistry, to alternative and renewable energy, to microbiology, to astrophysics and so much more can be found in e-Science! Pretty much anything science that we have been curious about this past month, we've been able to find in one place: e-Science! I am so thankful to have been chosen to review this product through the Schoolhouse Review Crew with my children!!
How have we used e-Science in our homeschool?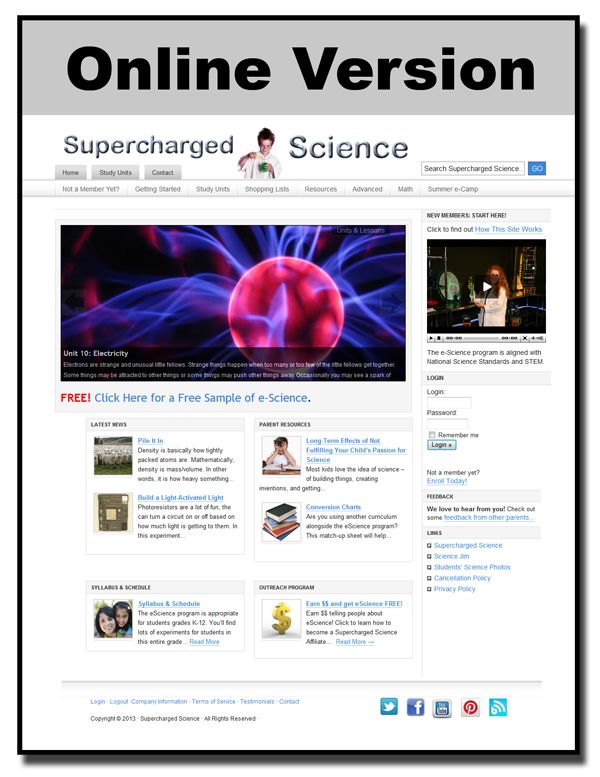 (At the end, I will have a special free sample offer from e-Science for our readers!)
I looked over all the unit topics with my nine year old scientist - she wants to be a veterinarian that helps save cheetahs from extinction in Africa when she grows up . Much to my excitement, she chose to learn about Life Science 2. (I decided our family would be just fine beginning with the second part of Life Science and not the first portion. We can go back and do that part at a later time.) And I was right, the little ones have learned so much about prokaryotes, archae, fungi, protists and plants over the past month! And the experimenting (which e-Science is known for) is simply phenomenal! We still have a lot of exploring left to do in this Unit and my guess is we will probably be here for at least another month!
This is the button for Unit 17
During science time, we would head over to e-Science and click the button for Unit 17. We would then:
watch and discuss a video(s) about an experiment(s)
look over projects to explore on our own
or read and discuss the text portion about our subject
or do an experiment we've already read about
I absolutely love that there is a shopping list for each Unit and that the written or text portion can be printed out and placed into a binder for more frequent study.
And, here is a conversion chart that shows how e-Science fits into many homeschool science programs.
How I modified the text:
The text for the unit we chose can be a little advanced for young elementary students. So, I would simply read aloud a couple of paragraphs (you never know how much of the original text will actually sink in) and then paraphrase what I've read to be what I would think is on a young elementary level. I would then ask for each little one to narrate what we've learned thus far and we would have a discussion. This system worked great for us. I would also check our home library and local library for early elementary focused books on our topic.
Experiments! The Heart of e-Science:

After watching a video on the e-Science website on how quickly bacterium grow after a dental cleaning, we then read about an experiment to try out to go along with what we just saw.

So, here is one of the first prokaryote activities we tried from e-Science. We brushed over our teeth with our own toothbrush and made individual slides with the liquid we could squeeze out from the toothbrush onto a slide. We then took turns making our own slides and looking at everyone's prokaryotes . As a bonus, since we were already in the mouth, cheek cells (found in Unit 16, Lesson 2) with a definite cell membrane, nucleus and cytoplasm under the microscope under different magnifications. We had a blast!
Here is another favorite, super cool e-science experiment we tried using different toothpastes. (We chose three different toothpastes for this experiment- one all natural, one "regular" and one for sensitive teeth.) We also needed three Petri Dishes with agar and a sterile swab.
First, Ryan would brush his teeth for a specified amount of time with a specific toothpaste.
Then, I would swab Ryan's mouth with a sterile swab and zig-zag the swab into the agar.
and here are our results after seven days of growth each:
What do you think?
Other ways of learning from e-Science: An Online Science Class (webinar) and E-mail Lessons:
Webinar
:
We are also on the e-Science e-mailing list. We received a notification that there would be a webinar on Alternative and Renewable Energy for email subscribers. A solar oven would be the project made at the end of the lesson. We had already made a solar oven a few weeks earlier in a co-op class I was teaching. So, we thought learning more about alternative and renewable energy would be super fun. We invited a third grade friend from our co-op class to join Caraline (her mom is on the e-mail list) to watch the video.
I didn't time the lesson, but Aurora spoke with pictures showing on screen for probably about 30 minutes, and then the instructions for the solar oven were presented. Since we had recently made a solar oven, and our door bell rang at just that time, we stopped our lesson at this point.
The lesson itself was very interesting. Now, there may have been some points that were a little above a third grader's comprehension, but it's was still certainly time not wasted because we will revisit the information again. (I did give the boys, Pre-K and 1st grade an opportunity to watch the class, but they weren't as interested in sitting quietly to watch.)
The 11 am start time crept upon us and this was where we ended up doing our online class - logging on quickly in the floor! We could've moved, but our location was a nice fit for the girls.
E-mail:
When an e-mail with a random lesson with experiment video comes in we get excited! The one for this week was really, really neat - they all are! We've always been taught there are three states of matter: liquid, solid and gas, right?! Well, as Aurora taught us in this week's email lesson, there are actually FIVE. We learned in two minutes about how to make plasma, a fourth state of matter, which is "an ionized gas" using a microwave and a grape. The video was awesome and although we didn't have grapes, we did have blueberries and the results are still pretty cool! Now, we must dig deeper in e-Science to find the fifth!
The email lesson is basically a link to a single lesson with experiment within a unit in the e-Science program. You'll also have to login to the program which means you'll need to be a paid subscriber to the e-Science program to see the full experiment and text.
Final thoughts:
We've used e-Science to delve into a single Unit and to research a rabbit trail interest. We've watched an online science class on a completely different subject, and we have enjoyed the short, random email lessons to draw us into another interesting aspect of science.
Even though this program is quite pricey in my opinion, if you can afford it I know you and your budding scientist(s) will thoroughly enjoy learning from a real NASA rocket scientist (plus many other titles behind her name!)!
I can't recommend e-Science highly enough. Even though some of the lessons we have chosen may be a bit advanced for early elementary aged children, we can make it work and have made it work beautifully! All of our experiments have been early elementary friendly with no tweaking!
I must also share that we have so enjoyed having our microscope out for easy access. It's made looking at whatever interests the little ones- like a butterfly and a grasshopper's wing, aquarium water, etc. super easy! I have to say our interest in microbiology has been through the roof for the past month! And this is my gauge for an excellent program!
Pricing at the time of this review:
You can gain access to their
K-8 grade curriculum
(content appropriate for a K-8th grader) for $37 dollars a month.
Their full
K-12 curriculum
is $57 dollars a month.
You may cancel at anytime, and if you cancel within the first 30 days, you pay nothing.
Here is more information on membership to e-Science.
Special Free Sample Offer:
Simply go to this link for a free sample of e-Science
!