Flowering Baby, LLC
utilizes a "whole child developmental approach" for their birth to preschool curriculum. The co-authors (including a child development expert) penned Flowering baby using Classical, Unit Study and Charlotte Mason philosophies.
Each year is a separate product.
Birth to One
,
One to Two
and
Two to Three
are designed for the specific age of the child. They are broken down by the child's age in months and focus largely on cognitive skills, developmental skills and includes suggestions for read alouds and music.
A link to a one month preview of Birth to One can be found at the very bottom of this page.
A link to a one month preview of One to Two can be found at the very bottom of this page.
A link to a one month preview of Two to Three can be found at the very bottom of this page.
Age
Three to Four
and
Four to Five
are structured by calendar month
and
themes. The Monthly curriculum focuses largely on subjects such as science, math, reading, physical exercises and scheduling a variety of music - with most months including suggestions of music to listen to for the month. There are also specific themed unit studies (in a separate PDF file). In addition to the calendar month activities, you are to choose two themes, in what ever order you wish, each month to complete.
Example of the twenty-six titles in the 84 page Four to Five Theme Curriculum Guide are: Arctic Life, Bodies of Water, Bugs and Birds, Christmas, Dinosaurs, Fall, Family, Farm Animals, Fish and Frogs and the list continues in alphabetical order.
A link to a one month preview of Three to Four Monthly curriculum can be found at the very bottom of this page.
A link to a one month preview of Four to Five Monthly curriculum can be found at the very bottom of this page.
How We are Using Flowering Baby, Four to Five in Our Homeschool: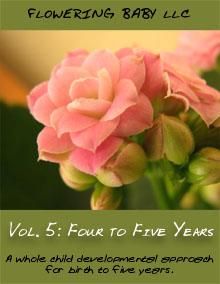 We have a bright 9 year old daughter that enjoys playing preschool learning games with our four year old son. They both do well in this type of teaching situation. Not only does our son learn, but our daughter also learns a plethora of valuable skills through teaching a younger sibling, too. So, when an opportunity arose for us to try Flowering Baby with its simple yet effective approach to learning, my daughter and I instantly knew we wanted to give this a try with four year old Jonathan.
We began by printing out the month of January curriculum guide (16 days of activities). For our two themed units, we chose Aquarium and Arctic Life (six days of activities) and Bodies of Water (six days of activities) printed those out and placed them in a three ringed binder.
Caraline and I read over the curriculum guides and discussed each day's activities. We looked over the materials and suggested books and began requesting those we didn't own from our local library. For the few we couldn't get from our library, we simply chose a similar book as suggested in the curriculum guide. While searching for library books, we came across a couple of educational children's DVD's to supplement as well.
The night before lessons
, Caraline and I have a meeting to discuss the following day's activities, about two hours worth of activites. We gather all of the needed supplies at this time, too.
A Sampling of What a Typical Day of Flowering Baby Looks Like:
Our preschool activities on this day began by singing the ABC's. We changed this one activity up a little bit from the manual (Isn't this what homeschoolers do best?!) by showing lowercase alphabet letters with our song and saying the sound each letter makes as we sing.
Today's focus was the letter B. We practiced writing the upper and lowercase B on a whiteboard. (There are no guided worksheet pages or tutorials on how to teach handwriting in Four to Five. I did see more specific handwriting instruction in Flowering Baby, Three to Four.) We also thought of words that began with B and said those aloud as suggested.
Flowering Baby recommends several complete phonics guides and websites, in case your child is ready for more detailed instruction, to use along with their program. Flowering Baby is meant to complement any of them and to be a good stand alone introduction to those not yet ready to begin a more in-depth phonics program.
After reading Blue Sea (four times!), Caraline directed Jonathan per the Flowering Baby manual to count out 10 blue teddy bears and position them from left to right while counting. They took turns finding blue items around the house and sorting them from light blue to dark blue. (I especially loved the sorting from light to dark activity! That is something we haven't practiced much.) Caraline also watched over Jonathan as he cut out blue items from an old magazine and pasted them onto a sheet of construction paper. (For children that can't get enough of math, Flowering Baby recommends Saxon Math K in addition to their curriculum.)
After a break, Caraline read
The Listening Walk
to Jonathan
.
In January, one of our focuses was ears and hearing. For foreign language time, all of our children listened to a Spanish storybook on CD, and then enjoyed Classical music as they played with building blocks. Listening to three composers of differing styles per month is recommended.
Later in the day, Caraline read the Three Billy Goats Gruff and then all three children acted out the story with building blocks and farm animals, including the one toy goat we could find! This was a great tag along for small, medium and large as introduced in
Blue Sea
and another of my favorite Flowering Baby activities!
And lastly, we focused on our
themed unit
. We all located the Arctic and Antarctica on the globe. Next, instead of reading a book about the arctic, we watched a great video
Really Wild Animals: Polar Prowl, a National Geographic film
(Our only deviation from the themed curriculum's library choices - the authors do, however, suggest looking for supplemental or replacement titles at the library.) that we checked out from our library. Next, Caraline directed Jonathan in sorting the land and water toy animals we had on hand. We also talked about what we would wear if we were visiting the Arctic regions and why we would choose such clothes.
During the month of January, we worked on learning our telephone number by heart and learned when to use 911. We practiced simple addition using food and while we were at it, we talked about healthy food and junk food. We used a Charlotte Mason type approach to literature with two of our storybooks, the Snowman and Blueberries for Sal. (In the appendix there is a
Learning through Literature
guide for each book with narration prompts.) We painted and made simple crafts, too. We also tried out some physical skills like kicking a ball with our right and then left foot, along with so much more.
The activities may seem simple, and that is the hope of the authors. They also don't want the simplicity to fool you. You see, there is a method and purposeful goal for each and every one of the activities.
Final Thoughts:
We are enjoying Flowering Baby years
Four to Five
. There are
plenty
of activities to keep us busy and learning beyond two hours. Many times we don't finish everything for one day. The curriculum is easy to implement. It doesn't take a ton of prep. The biggest time consumer, in my opinion, is frequent trips to the library for topical books (not a bad thing!). And even though I am a check off the list, spread sheet kind of girl - the format still works for Caraline and myself. We just put a check mark by each activity as it's completed. Simple, and it works. This is a well rounded, well structured, full of fun, learning curriculum. Caraline and I are happy to have been given the chance to review Flowering Baby,
Four to Five
with Jonathan. Plus, Caraline is learning valuable skills from teaching this program, too!
Pricing and Discount:
All levels of the
Flowering Baby
curriculum are sold on CD in PDF format
from
Flowering Baby, LLC
. The price ranges from $30 each for the first three age levels to $38 each for the last two age levels - which includes the level we used with Jonathan,
Four to Five
. Using the code "Blog10" at checkout, you will receive a 10% discount from
Flowering Baby, LLC
!
Again, at the very bottom of each page is a free sneak peek (includes lists of most often used items):
Four to Five Preview
Three to Four Preview
Two to Three Preview
One to Two Preview
Birth to One Preview

Disclaimer: I received a free copy of this product through the Schoolhouse Review Crew in exchange for my honest review. I was not required to write a positive review nor was I compensated in any other way. All opinions I have expressed are my own or those of my family. I am disclosing this in accordance with the FTC Regulations.