Apologia Educational Ministries
is an award winning staple in many homes. Our family was beyond excited for our opportunity to learn about
Swimming Creatures of the Fifth Day, Apologia's Zoology 2
course for elementary aged students, kindergarten through sixth grade. We were also given the opportunity to review the
Jr. Notebooking Journal
that goes along with the textbook, too! I can't wait to share our experience with you!
What is Zoology 2: Exploring Creation with Swimming Creatures of the Fifth Day textbook?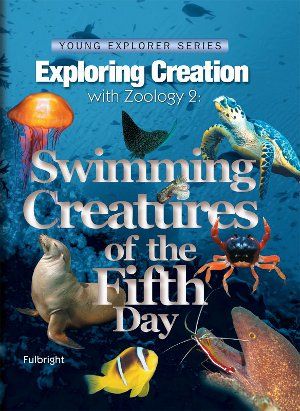 It is a creation based 217 page book that covers everything that lives in the water from whales to snails and even dinosaurs! The illustrations are beautiful, and it's filled with gorgeous photographs sprinkled on nearly every page.
The conversational tone of the textbook (It's very hard to call this a textbook.) is perfect for those of us looking for a living literature approach to science. I think it's safe to say Charlotte Mason, our greatest homeschool influence, would have been thrilled to use Apologia science in her classroom.
In Zoology 2, as in all of Apologia's science books, they are filled with fun, hands-on experiments or projects to help our little ones cement the concepts being learned. I can tell you the experiments are my boys favorite part! As I pull out our science book for a lesson they always ask with great excitement, "What experiment are we doing today, Mommy?" And typically there is a suggested experiment at the end of our daily reading!
What is the Zoology 2: Junior Notebooking Journal?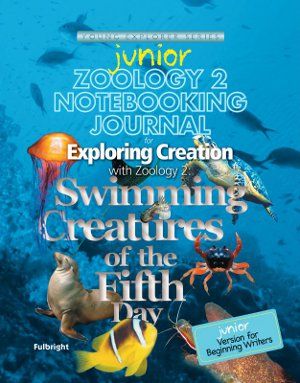 The spiral bound Jr. Notebooking Journal is an optional resource for third grade and younger or those in higher grades that are struggling with writing.
The Junior Notebooking Journal combines coloring pages, notetaking and drawing pages, experiment recording sheets, dashed line scripture copy work in print and cursive, cut and paste activities, diagrams and more into 232 pages , plus another 64 pages of full color mini-books.
The Junior Notebooking Journal is a perfect addition for those of us looking for another avenue to help our children retain the material presented, in a another learning style that is hands on and enjoyable!
This resource also includes a lesson plan guide for using the notebook and textbook together as well as suggested library books and videos for each lesson and additional projects or experiments. The guide is meant to be used as a
guide
. The journal even states not to feel as if you must complete
each and every
activity or assignment.
How have we used Apologia: Zoology 2 in our homeschool?
I used the Jr. Notebooking Journal's lesson plan as my guide. We would begin science cuddled together on the couch with read aloud time from the text. Occasionally, there would be a coloring page and we'd sit at the school table for Caraline (3rd) and Ryan (1st) to color together. Jonathan (Pre-K) would color a random coloring page I'd print from the internet or simply free draw as I read our lesson for the day. After our read aloud time, we all worked together on the notebooking pages and minibook projects.
Sometimes, the suggested reading portion was a little long for my little ones, and we'd break it up into two reading sessions in a day or spread the reading over two days. This also meant that our notebooking activities would extend into two days as well.
Usually, after each day's reading, there would be a
Try This
hands on experiment. At the end of each lesson there is always an additional
Experiment
. The Science Speculation Sheet found in both the textbook (generic reproducible) and journal is to be used with the end of lesson
Experiment
. All the materials we've needed thus far, I've had at home. Independent companies do sell comprehensive lab kits for Apologia science. ~ A comprehensive list of lab materials can be found
here
.
Below are three examples of the many experiments we completed in Lesson 1, Aquatic Animals and Lesson 2, Whales.
Learning that sound really can travel long distances during our whale study!
Does salt water or fresh water freeze faster? We found out using this experiment!
Learning about surface currents using cheerios *ocean creatures added for fun by our youngest * For obvious reasons, I held each hair drier.
Many times we would supplement our studies with a You Tube video or even a Netflix movie at night. Always, our little ones enjoyed sharing their new science knowledge with Daddy in the evenings!
We also added in a field trip to our local aquarium! I see in our future at least once a month visits to the aquarium during our Swimming Creatures study! In the Jr. Notebooking Journal there are five field trip recording sheets, too!
Can you pick out the benthic animals?
Another suggested project is an ocean box. This is a shoe box (or larger box) covered with blue paper to represent the ocean. Next, clay animals are formed or paper models cut out or you could even buy dollar store replicas of the animals being studied. These are then placed into the ocean box. Directions and ideas for this project can be found in each lesson.
Final Thoughts:
This has been a fun experience for all four of us! For a preschooler, a first grader and a third grader Swimming Creatures of the Fifth Day has been a perfect fit. All three are actively engaged in asking questions and repeating things they are learning. This is definitely a resource that is interesting and fun for the children and teacher!
Pricing:
Currently,
Swimming Creatures of the Fifth Day (Zoology 2)
can be purchased from Apologia for $39 and the
Zoology 2: Junior Notebooking Journal
for $24. The regular Notebooking Journal, for grades 3-6, is also $24. There are sample pages of each provided on the above links.
Find out what others thought about Apologia Educational Ministries Science resources by reading the reviews below!

Disclaimer: I received a free copy of this product through the Schoolhouse Review Crew in exchange for my honest review. I was not required to write a positive review nor was I compensated in any other way. All opinions I have expressed are my own or those of my family. I am disclosing this in accordance with the FTC Regulations.