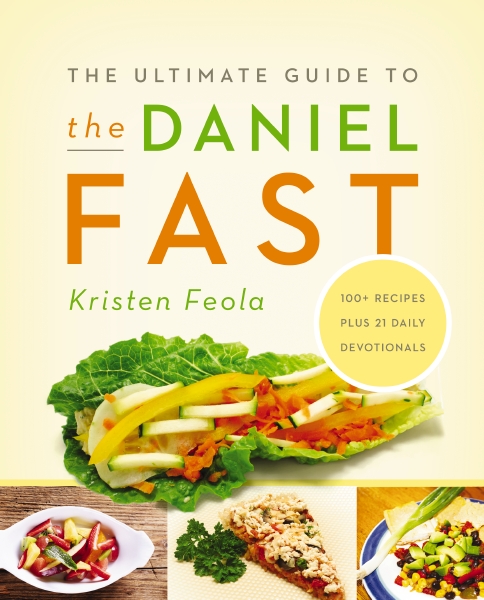 Our pastor recently embarked on a 21 day fast and encouraged the congregation to participate in at least one day of fasting with specific prayers for our church and community in mind.
I had a moment to speak to our pastor later that day and I confessed that I wasn't sure
how
to fast. During our conversation, he recommended Googling the Daniel Fast, which I had never heard of before, and that is how I found
The Ultimate Guide to the Daniel Fast by Kristen Feola
. Kristen also happens to be a personal trainer and nutritional consultant.
I am a new reviewer for
Zondervan
- which is the publisher of
The Ultimate Guide to The Daniel Fast
! You can imagine my excitement as I immediately requested this fabulous book for our first review!
The nice sampling of full color recipe photos found in
The Ultimate Guide to the Daniel Fast
are absolutely gorgeous. It's a pretty book to thumb through. Once opened to read, the content did not disappoint either.
In part one, immediately we are taught about fasting; the whys and hows
~
Exactly what I was looking for.
If you visit the Zondervan page for The Ultimate Guide to the Daniel Fast under product details, you can sample 30 pages of the book.
Mrs. Feola takes us through several examples in the Bible of people that fasted, how they fasted and the reasons why. She spends a good deal of time on Daniel and his reasons and details of his fasts. It was fascinating to learn and to be inspired by these great people of faith.
Part two of the book is called
The Focus
. It includes 21 beautiful and encouraging daily devotions that begin with a focal Bible verse followed by the devotion, personal stories, additional Bible verses for study, a prayer, and sprinkled in at the end of each week is a paragraph of extra encouragement. There is a reason this book is called the
Ultimate Guide to the Daniel Fast
. Everything you need, including devotions meant to keep your heart focused on God while "Feasting on His Word" are provided.
Part three is titled
The Food
. Mrs. Feola Goes through which foods are acceptable to eat and which foods not to eat during a three week (21 day) Daniel Fast. Next, she explains how to take the more than 100 recipes in this book (which are all pictured on her blog
www.ultimatedanielfast.com
) to create a personalized, three week meal plan for yourself or you may choose the three week meal plan that is already written out for you.
The next section of
The Food
includes the recipes broken down by categories: breakfast dishes, appetizers and snacks, salads and salad dressings, soups, vegetables, main dishes and juices. The recipes range from quick and easy to multiple ingredients that appear quite involved.
I would love to see a prep and start to finish time added to the recipes. Knowing the length of time a recipe will take is important to me.
The Appendix includes a wealth of information, too. From Fasting FAQ's, to Verses to Feed on and the Daniel Fast Meal Planning Tool and at the end is an index of recipes.
There will be an online support system for a January 2013 Daniel Fast (Jan. 6 - 26) that you can join through
The Ultimate Daniel Fast
website.
Disclaimer: I was sent a paperback copy of
The Ultimate Guide to the Daniel
Fast
in exchange for an honest review.