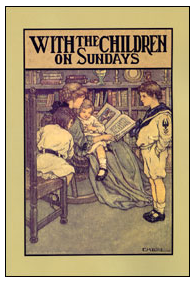 "Did it ever occur to you, as a parent, that between the birth and the age of twenty-one years there are three solid years of Sundays-an amount of time almost equal to the number of years given to an entire course of college training? The Creator has not laid upon parents the responsibilities of parenthood without giving them ample time and opportunity to discharge these obligations to Him to themselves, and to their children."
~With the Children on Sundays (pg. 10)
What is With the Children on Sundays?
With the Children on Sundays
, a family worship book, was written in 1893 to encourage parents to use the extra time families typically have together on Sundays to foster a deeper understanding of Biblical principles. The goal is also to make the time spent together the "brightest, happiest and best day of the week" (pg. 10).
With the Children on Sundays
invites the whole family to attend a church service at home complete with pretending to drive the horse and carriage to church, singing worship songs, and even enjoying a snack, plus many other ideas. There is a ten page "Suggestions to Parents" that gives 63 practical tips to play church, to execute Bible Drills, game ideas and so much more. At the heart, this 330 page book includes fifty-two little sermons, that use objects familiar to children to illustrate Biblical principles or truths. Each lesson is about four to six pages in length.
The publisher,
Grace and Truth Books
which is also a family owned Christian bookstore, suggests
With the Children on Sundays
could also be used as a wonderful pick-up and go Sunday School curriculum for children ages five to eleven.
How we have used With the Children on Sundays?
I begin by reading beforehand the "Suggestion" at the beginning of each lesson. This is where I find the objects needed and background information pertaining to the truth our lesson will be trying to get across. There are also reminders and suggestions on how to keep our "church service" interesting for the children. I may also thumb through the "Suggestions to Parents" section at the beginning of the book. Next, I gather the concrete objects suggested and/or look for a video or picture on the web that illustrates what is needed.
For example, in the first lesson,
Oyster and Crab-Conscience
, an oyster shell is needed. I just happened to have one at home. I also searched for and found an online video to show the symbiotic relationship between the oyster and oyster crab to use during our lesson. One of the many suggestions include copying the wonderful illustrations in the book and using them as a coloring page for the children, too.
For lesson two, we needed a healthy apple and a wormy apple. I didn't have a wormy apple on hand, but we found a picture online and C8 spoke of her experience of finding a worm in her apple long ago.
For our service, which is held on any day of the week, not just Sundays:
• We would pretend to drive our horse and carriage to church as suggested. I like keeping the ambiance of a time long ago in the forefront of our reading since this book was written in the late 1800's.
• I then ask for a summary from each child of a previous sermon as suggested in the preface. According to the author, this is an important aspect to not only reinforce learning for all, but to also encourage public speaking skills, too.
• Sometimes we sing songs, other times we just go right into the sermon for the day.
• At the end of each lesson there are many
questions
. We read through and discuss each one. There is usually a tiny introduction in this section as well as to what the next lesson will be.
You truly could just pick the book up and begin reading without first finding the recommended object or even finding a picture or video online as I typically do. The book has so many great illustrations, and explains everything so well that if you don't have the time or resources to do so, you'll be just fine.
Final Thoughts:
As a homeschooling mama, I love that each lesson includes a real world example using a science, history, or even geography lesson to introduce the Biblical truth being taught. The sermons are well-rounded experiences that are meant to be simple and interesting.
I also like that this book is a bit over-sized and nicely illustrated. Even though a small few of the object lessons may seem dated, the overriding spiritual principles are absolutely timeless.
I'm so thankful we've been given the opportunity to review this family worship book. We haven't finished all fifty-two sermons, but out of the dozen or so we have read we've enjoyed them thoroughly and our hearts have been touched.
Pricing:
The retail price of
With the Children on Sundays
is 23.95. Right now it's on sale for 17.50.
The Schoolhouse Review Crew reviewed many titles from
Grace and Truth Books
. Click the banner below to read more Grace and Truth reviews.

Disclaimer: As part of the Schoolhouse Review Crew, we were given a physical copy of With the Children on Sundays in exchange for our honest review.