R6 and I have been using
Institute for Excellence in Writing's
Primary Arts of Language
course designed for students K-2 for a little over a month, and we are loving it!
I do have a very big confession. I've seen IEW's tables at conferences but I've never been intrigued. The word
Institute
made me think stuffy, boring and not fun at all. I completely passed it by each time.
Boy was I wrong! Little did I know but this program combines Classical, Charlotte Mason and Montessori philosophies to teach reading, writing and spelling. Because of this combination, there are many different types of activities to complete during a lesson. This keeps things moving and fun for my son.
This is a huge program! In order to review this for you in a somewhat timely manner, I am going to link to an hour
PAL webinar
that explains the program in depth. Next, I will embed a 13 minute overview that explains "Where and How to Begin" very well in those short 13 minutes. Then, I will list what's included and needed for the program. And, lastly, I will give you a sneak peek into what PAL looks like in our homeschool.
Let's start with the reading portion of program: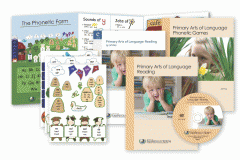 The picture above is the reading program.
What is included with the PAL-Reading program's complete package ($69.00):
The Phonetic Farm folder and stickers
Primary Arts of Language: Reading Teacher's Manual ~ 165 pages
Primary Arts of Language: Reading DVD-ROM
The Reading DVD-ROM includes: the instructional DVD and files. The files included on the DVD-ROM are: Student Book 1 (Lessons 1-40) as PDF files, Student Book 2 (Lessons 41-80) as PDF files, Readers One, Two, Three and Four as PDF files. (The Student Books can be purchased separately in hardcopy form.)"The Four Language Arts" by Andrew Pudewa MP3 audio, "Nurturing Competent Communicators" by Andrew Pudewa MP3 audio, "Poetry as an Integrator" by Anna Ingham MP3 audio, "Introduction to the Blended Sound-Sight Program" by Anna Ingham MP3 audio
Primary Arts of Language: Phonetic Games ~ 194 pages
School supplies you will need for PAL-Reading:
3x5 inch cards (2 packages).
Manila file folders (at least 35).
A box or crate to keep the file folders in.
Crayons, markers, colored pencils, comfortable pens, black Sharpie marker (for teacher), scissors, glue, tape
3-ringed binder with five tab dividers
Now, I will list what is included with PAL-Writing's complete package ($89.00):
Primary Arts of Language: Writing Teacher's Manual
Primary Arts of Language: Writing Instuctional DVD-ROM containing: Video Instruction, Student Material PDF Files (to print) ~they may be purchased separately here ~which are: Part I Student Book (Printing and Story Summaries), Part II Student Book (Copy Work and Style) Part III Student Book (Composition with Style). And SIX audio MP3 Instructional Seminars from past Writing Teacher's Symposiums. You can find the full list here.
All About Spelling Level One which includes: Teacher's Manual (122 pages), Student Materials, and Basic Interactive Packet (letter tiles, magnets, phonogram CD-ROM, and tabs)
School supplies you will need with PAL-Writing:
A composition notebook to use as a daily journal (hard or spiral)
Wide-rulled notebook paper (spriral bound or loose leaf)
3x5 cardbox for All About Spelling student materials
Magnetic whiteboard, optional for use with the spelling tiles
Now, lets talk about how we've used PAL:
When our large package arrived in the mail I immediately sat down and watched the instructional portions of the reading and writing DVD. A day later, I began making file folders and printing the student materials from the reading and the writing DVD-ROMs for the coming week. *There will be some preparation for the teacher to do beforehand.You can prepare everything for the year in advance or just do it one week at a time as I do, or any variation that works for you.
For our lessons, I open the Reading and Writing teacher's manuals to the current lesson. I'll be going back and forth between them. Everything you need to know or say is in the lessons.
Our first learning point for each lesson is Poetry (5-10 min.). We begin by reading a preselected poem and pointing out language and phonics principles that are outlined for us in the text. The first day we just read for enjoyments sake. By the end of Lesson 9, we've picked the poem apart, illustrated it, imagined it and memorized it without effort.
Next, we switch to PAL:Writing Teacher's Manual for the next three activities.
R6 completing a writing worksheet after practicing on the whiteboard.
Here we write a brief Journal Entry (5-10 min.) with our child. Tips and a sample journal entry is included for the first day. At this time, you may want to introduce how to use a calendar to find the date as suggested.
Next, we do the Printing Lesson/Copy Work (15 min.) which in the beginning is learning how to properly form each letter of the alphabet and practice using a worksheet. R6 could use a little more practice writing his letters. So we began at the beginning with Lesson 1 in PAL:Writing.
Third, we complete the Story Summary (20 min.). There are eight stories printed within the lessons to summarize. There is Story Sequence Chart in the appendix that can be used as an outline to summarize each story. The first eight are summarized for you in the teacher's manual. At lesson nine, the author provides many free sources for good stories and fabulous tips.
A break or switch to another subject is recommended at this time. Usually, R6 and I just go straight into the next portion of our lesson.
Now we are back to PAL:Reading Teacher's Manual. I chose to begin in Stage 1 which teaches letters, phonics, and sight words using games. R6 could already read many words, but some of the sight words taught in Stage 1 he wasn't familiar with. Plus, we didn't pick through specific phonics sounds for sight words like PAL teaches. So, I thought it would be good to begin with Lesson 1.
I also found, after listening to the Phonogram CD-ROM that came with All About Spelling, that even I couldn't recite all of the sounds of some of the letters. ~I didn't know the letter O has four sounds? So a fresh, new beginning would be ideal for the both of us!
Now comes the really fun part for my little one- Folder Games as we call it, or Foundations and Reader Words (15 minutes) as it is called in the teacher's manual! We usually play about 3-4 games at this time. The games are located in a separate spiral bound book that comes with the complete reading course. These must be put together by teacher (and child!).
R6 working on his Color Palette file folder.
This has to be the favorite game so far. J4 loves playing this game, too! Mugs is fed letters or blends as they are said.
We like using the Phonogram CD-ROM to call out the letter or blend sounds for Mugs to eat! I click a letter or blend and then R6 shows the bone to me and finally, he feeds it to Mugs. I always make a "yum, yum, yum" sound. The laptop also makes for a wonderful prop for the folder game.
This is also when we write our sight words on an index card and underline our helpers. For example, one of our first sight words was green which R6 can already read. But we learned for the first time that the double e's are "Squeally-e's, and that they say the long e sound when they are in the middle of words. We then underlined the double e's on our card as suggested.
Next, we work on another favorite, the Phonetic Farm (5-10 min.) folder and stickers. Everything that needs to be taught again, is clearly stated for the teacher.
After the Phonetic Farm, we typically take our break.
After our break, we do our Agenda Work (suggested 30 min. we finish in less time). This is the worksheets from Student Book 1. There are suggestions to add a book on tape to the agenda or a chore. We typically just stick to the worksheets.
An example of a one worksheet from Lesson 4.
The last two activities we typically add to the earlier lessons. They are a review of the Phonetic Farm and then an informal spelling test. For example, the spelling test for Lesson 1 is spell /c/, /o/ and /a/.
Because R6 was already reading and spelling words, we decided to go ahead and dive into
All About Spelling
which is multisensory and just fabulous. Typically, All About Spelling would begin in PAL: Reading: Part II.
We are already in the second part of Step 5 Choose the Correct Vowel (pg. 33) and this is what our last lesson looked like.
R6 first alphabetizes the letters on the whiteboard.
Then, we review by segmenting words. For example, I say the word ham and R6 would then segment the sounds by pulling down a token for each sound (3) he hears.
Next, I pull down the m, a blank red (vowel), and the t.
I repeat straight from the teachers manual "I want to spell the word mat. What sound will go here?" Point to the blank tile.
This is our card box for all of the All About Spelling Student Materials
Final Thoughts:
A lot of what we are still doing is a review of sorts, yet so much is not. It's presented in a way that is very different from what we are used to. I've also noticed we are spending more time on Language Arts each day. Over the past month, I have witnessed a marked increase in R6's language skills. I couldn't be more thrilled with this course and how R6 is responding.
To read what others have to say about IEW's PAL program click the banner below:

Disclaimer: As a member of the Schoolhouse Review Crew, I was given a copy of IEW's PAL course in exchange for our honest review.