Growing Up Wild
is a truly unique missionary resource. I've never seen anything like it, and we
love
it!
So much so, a fellow blogger and close friend and I will be teaching a class of 2nd and 3rd graders in our homeschool co-op using this DVD/CD-ROM ccurriculum beginning in January!
Who are the Wilds?
The Wilds are a missionary family in a remote tribal jungle in Indonesia.
What is Growing Up Wild?
Growing Up Wild is an educational DVD video series with an accompanying CD-ROM activity guide. Growing Up Wild was conceived by The Wilds to educate and "spur on" the viewers to live for Christ as they chronicle their day to day life as tribal missionaries.
(There are more wonderful
Growing Up Wild video excerpts
you can view to learn more and get a feel for what the series is like.)
We reviewed Volumes 1 and 4. Each volume has three, 15 minute video episodes with an activity guide unique to each episode.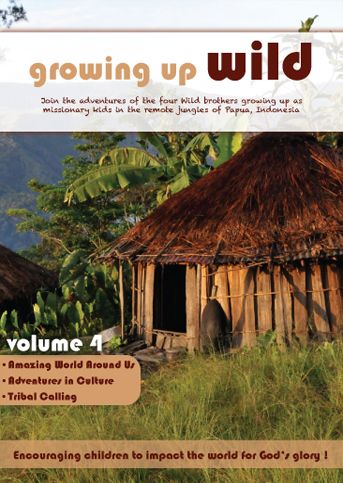 In
Volume 1
, we touched on:
What their house looks like compared to ours in Home Sweet Hut. You can see the full activity guide for this episode here.
How they get months worth of supplies during one trip to the coast of Papua in Supply Trip.
How they use gravity for pressure in their water system and the sun for electricity in Sun and Water. They have a clean water, a small washing machine, shower and even a toilet in the most remote of jungles!
In
Volume 4
we learned about:
Evidence of our Creator in the many unique animals populating their area, in Amazing World Around Us
In Adventures in Culture we are taken into the cultural life of the Wano people. ~ I was the only one to say "Ouch!"out-loud while watching this episode that includes actual nose piercings. We are encouraged to "explore the boundaries of our behavior" and self-evaluate "yourselves as you see how the many parts of your life is governed by your culture." One of the activity guide pages shows a drawing by one of the brothers, Morgan, of where he saw the American Dream, Christian American Dream and Jesus and His Call overlapping.
In Tribal Calling we see more of how the Wilds are reaching the Wano people for Christ.
We see how they came into a culture with no written language, learned it in about three years, began teaching them how to read and write so that they could read and learn from God's Word.
How the Wano people were taught chronologically from the Bible for six days a week over three months.
How at the end of those three months sixty of the Wano people understood and accepted the Gospel of Jesus!
I absolutely love the activity guide for this episode which digs deep into God's plan for us as part of the body of Christ.
How we used this series:
We watched each episode and discussed them together. I printed out and used the activity guide as a starting point for looking up Bible verses and to point out discussion topics. I am saving the activity guide's hands on suggestions for our co-op class next semester.
Final Thoughts:
Recommended for ages 5 and up, Growing Up Wild is a fabulous, God-centered missions curriculum that can be used in the home, in church groups or even homeschool co-ops. The video itself is high quality, beautiful and very well done. My children love learning about missionaries and especially missionary children! At first I was worried that the tribal clothing might distract my little ones. It wasn't a problem at all. If you haven't yet, go ahead check out the wonderful
Growing Up Wild video excerpts here.
We are so excited about sharing this series with our 2nd and 3rd grade class next semester! Look for an update sometime around February on how we are using it in our one hour, ten week long group setting!
The Wilds' prayer is "that God will raise up men and women who want to live all out for Him, craving to be stretched and used and poured out for His namesake."
Pricing:
Each episode is $18.99 plus tax.
Growing Up Wild Volumes 1-5
are available for a 15% discount if purchased all at once at the bottom of the page.
See what others have to say about Growing Up Wild by clicking the banner below.

Disclaimer: As part of the Schoolhouse Review Crew, we received episodes 1 and 4 in exchange for our honest review.