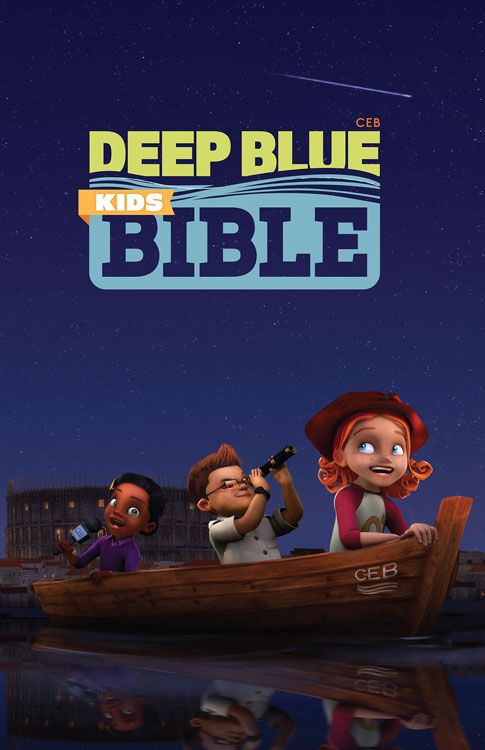 "Speak to them in their own language-every parent knows that's the best approach when trying to get a message to their kids. And when it comes to the Bible, the same reigns true: How do you engage your child in a way so that young minds find the Bible interesting?"
~
Deep Blue Kids Bible
Our family has had an opportunity to use
Abington Press'
,
Image Flex Deep Blue Kids Bible
. (There is a great 24 page
sampler of Deep Blue Kids Bible here.)
It's geared for children 7 - 12 years old, and has many interesting and unique features that make this study Bible stand out.
This colorful Bible has three characters, Asia, Kat and Edgar, pictured on the cover, who are our guides through the Bible.
Here's a great introductory video for the Deep Blue Kids Bible:
Deep Blue Kids Bible Experience from Common English Bible on Vimeo.
Just in case you didn't watch the above video, what makes this children's study Bible standout?
There are four types of in-text notes scattered liberally throughout:
Sailboat notes which point out positive characteristics for us to strive for
Umbrella notes which help teach "how unhappy emotions and traits aren't good for us"
Lighthouse notes which help make clear the basics of following God by developing rock solid faith and
Life preserver notes which help explain difficult passages.
Other features throughout the Deep Blue Kids Bible include:
Did you know? this feature points out trivia, customs or practices
God's Thoughts/My Thoughts which are devotions for life application
Navigation Point points out verses to memorize, and
Bet You Can! encourages reading of the Bible using timed reading for motivation. For example Gen 7:6-21, there is a Bet You Can that states "Bet you can read this in three minutes! Ready, set, go!"
A wonderful introduction page to each of the 66 books of the Bible. It includes a synopsis of the book, things you'll discover, people you'll meet, places you'll go and words you'll remember. This is one of our favorite features!
Front information, after the contents page:
There is an alphabetical list of the Old Testament and New Testament
There is a section titled Bible Basics that, among other topics, has a section on how to look-up Bible verses.
Next is an index of Navigation Point Verses, which are verses suggested for memorization. The first is Genesis 1:31 "God saw everything he had made: it was supremely good."
A Note to the Adults in Your Life gives wonderful hints and tips for making Bible time meaningful with your child. I love this quote " You are your child's most influential teacher and the gift of your time will build their confidence and faith in God." pg. xiii In this section they encourage readers to visit www.deepbluekidsbible.com for more ways to make the "CEB Deep Blue Kids Bible a vital part of your relationship with your child."
Additionally, there is an Abreviations and Terms page,
A page of definitions for Measures used in the Bible such as ephah, and denarion
Lastly, a Preface explaining how the CEB came into being and specifics about the translation.

In case you are not familiar with the new CEB translation, here is a little information:

With the help of "120 Bible translators from 24 denominations and 500 Bible readers from diverse backgrounds and hundreds of different churches" a new Bible translation called the Common English Bible translation came to be. (You can read more about CEB at CommonEnglishBible.com.)
There are many Bible Exploration Tools found at the back of the Deep Blue Bible:
Discovery Central is a dictionary of more than three hundred fifty words
I Wonder What to Do When I Feel... when we don't know what to do this section points us to Bible verses to help. For example, the first topic is Afraid. There are eighteen verse references listed under Afraid. The first is Genesis 21:17-18.
Deep Blue Notes by Topic lists in-text notes divided by the first three types, such as lighthouse and then by topic. For example, the first topic under Lighthouse Notes is Awesome God. There are eight references for this topic, the first being, God Parts Water Again Joshua 3:14-17 p. 246
This is the in-text note found on p. 246
Life Preserver Notes By Book of the Bible: the first reference is Genesis 1:1-2:25 and the title of the Life Preserver Note is "Why are there two stories of creation?" pg. 3. (Personally, I do not agree with the analysis that there are two creation stories.)
God's Thoughts/My Thoughts: for example, the first reference is Genesis 3:1-24 the title is God's Special Gift pg.6 (you can read this great devotional regarding disobedience in the preview link) I like how there are thoughtful questions at the end of the devotionals. The questions for this particular one are How can you obey God? and Name two things God has given you. I want to mention one more God's Thoughts/My Thoughts we just love. Romans 8:28 ~ All Things Work Together. There is a suggsted activity to look through old magazines and such and make a poster with Romans 8:28 on it. "Remember that God brings good things out of "junk"." The application question for this devotion is "When have you seen God work all things together for good?" I love there there are hands on activities occasionally suggested in the Deep Blue Kids Bible.
Bet you can! Reading Challenges include the reference, title, time and page. Giving kids (or parents for the beginner or struggling reader) a timed reading goal is such a creative and fun way to read the Bible together.
and lastly, eight full color National Geographic maps are included
How we've used the Deep Blue Kids Bible:
We used the Deep Blue Bible during our curriculum based Bible study time. We also studied the book of Philippians using the Deep Blue Bible. ~ This is the book my husband and I are studying with about 7 other couples in a small group setting.
I love the first
did you know?
in Philippians. It talks about Philippi being a wealthy Greek city named after Philip of Macedonia, and Philip just happens to be the father of Alexander the Great. It goes on to explain that Philippi was an important city for traders being that it was located along a road that connected Europe with the Middle East. Had I read this before my husband and I's first Bible study group, I would have known the answer to one of our first questions!
Examples of What We Like:
Our daughter likes that this Bible doesn't give "dumbed down" application stories. Too many Bibles we flipped through at the book store a few months ago were lacking substance in their application stories. We like that the applications we've read thus far have treated this age group with a much deserved maturity.
We both like that the CEB translation is easy to read and understand.
We also like the introductory page to each of the 66 books of the Bible.
The extra features offer many interesting ideas, explanations and historical facts that we enjoy.
What We Didn't Like:
A couple of times, I personally have not agreed with the commentary or notes. This does have a positive side. It's encouraged us dig deeper into His word and as a parent/teacher, this is a great benefit. In my opinion, if you are more of a Christian conservative, I feel that you must be watchful, as one should be with all commentary.
I asked C8 if something particularly stood out as a dislike. Her reply was that the CEB translation used the word "magi" instead of "wise men." There is occasionally a significant difference in vocabulary in verses that we have already memorized or are very familiar with. ~ As a reference for our readers, our family's go to translation is the NIV and NIrV.
Final thoughts:
Two main goals of The Deep Blue Kids Bible are to be attractive and engaging for kids aged 7-12, and in my opinion this is supremely done. The special features are unique and are great for study and reference.
The folks at Deep Blue Kids Bible
want
parents to study the Bible with their children.They've created a Bible that parents will enjoy reading and studying together.
Personally, because I've found a few instances of interpretations or notes that I don't fully agree with, this will be a Bible that we will use strictly together. If there is a viewpoint that one of us questions, we can research the topic together. Like I've heard our pastor say ~ I can't remember his exact words but you can get the idea ~ "When we get to Heaven, there will be a lot of red noggins from people hitting their palm on their forehead and saying, "Oh, so that's what that meant!" Of course I'm talking about myself here, too.
On the whole, this Bible is sure to get kids engaged and studying the Bible in a fun and interactive way. I believe Abingdon Press has done a beautiful job creating the Deep Blue Kids Bible with kids and their parents in mind.
Pricing:
Deep Blue Kids Bible is 1472 pages, and the suggested retail price is $26.99. It comes in five cover choices - we have the Image Flex cover.
The
five cover choices
include hardcover, image flex, two decotone covers and imitation leather. The Image Flex cover has held up well and has a nice sturdy yet flexible feel to it.* I just checked
Amazon's price
on the Image Flex and it's 17.81.

Disclaimer: As part of the Schoolhouse Crew, I received the Deep Blue Kids Bible (Image Flex cover) in exchange for my honest review.