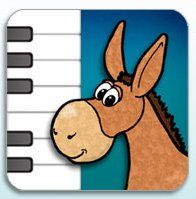 The KinderBach icon features Dodi
According to
KinderBach
, research studies have shown that learning to play the piano "helps the development of math and language skills." So, not only are we having fun learning piano using
Classroom KinderBach on the iPad
the children are also increasing their intelligence, in a sense. KinderBach really is a wonderful way to learn the building blocks of music for preschoolers and early elementary students. We truly are learning to play songs and read music!
KinderBach uses lots of creative characters, stories and songs plus hands on learning to teach young children to play the piano. Video lessons are short and can be repeated if a concept needs more practice, or repeated just for the fun of it! Likewise, more than one video lesson can be completed in one day if a concept is easily grasped. You set the pace for your child.
Classroom KinderBach App has three levels with ten lessons for each level, for a total of thirty lessons. Within those thirty lessons are an introduction and four videos each. There are enough lessons to last about a year, according to KinderBach.
There are also six learning games included with the app. We've used all of the games. Even though they are geared for specific levels, we've been able to play them and have lots of fun! The children love the iPad, and this is something all three enjoy playing at random times.
Here is an introductory video to the KinderBach app for iPhone or iPad.
How are we using the KinderBach iPad app?
First, let me share a picture of what a lesson's main page looks like in the app. I think you'll be able to visualize what I will be sharing below a little easier now.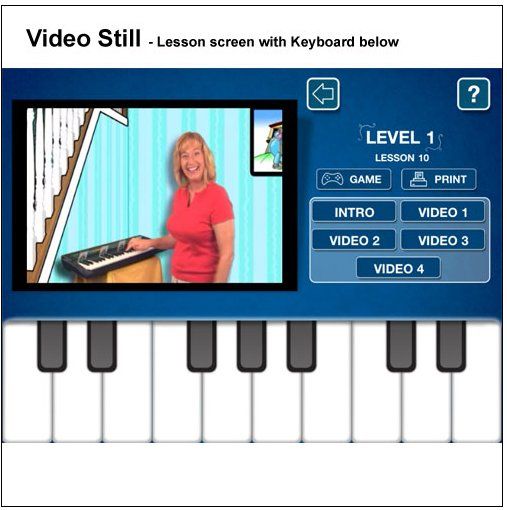 I'll take you through what the first week of lessons (Level 1: Lesson 1) were like for our family. The kids and I personally love that a functional mini-keyboard, ten white keys and seven black, is located on the app.
Level 1: Lesson 1's main teaching goals are to"learn about the piano keyboard, find the two black keys,... dance with high and low music, learn about finger numbers and play a beat on fun rhythm instruments."
Day 1:
The first day of Level 1, Lesson 1 (the first two lessons are available for free here) we watched the INTRO video (about 20 seconds long). It gave an overview of what we'd be learning and what instruments and materials we'd need, such as crayons and printed pages for Lesson 1. ~ The PRINT icon will appear beside the GAME icon if there is an activity page to go along with the video lesson.
On the first day, we continued through VIDEO 1. A PRINT icon does not appear with this lesson, therefore we knew there wasn't an activity page to print out.
We clicked on VIDEO 1, which is a 3 minute 50 second video lesson. In this lesson, the children practiced a high/low listening game by standing up and stretching high for high notes and dipping down low for low notes. The kids loved this activity and asked to do it a second time.
We continued with Video 2. There is a print icon for this activity and for most all the others. When I touch the print icon, our wireless printer automatically pulls up on screen. At this point, we are given a choice as to how many copies we'd like to print. ~ If your printing device isn't supported by Airprint, the PDF versions are available for a "small fee" on the KinderBach website.
In Video 2 (2 minute, 25 seconds) Dodi the Donkey and his home (the two black keys) are introduced with such a sweet story. There is a prompt as to when to color the two black keys, Dodi's House, and Dodi coloring page. Then, we practiced finding the two black keys on the keyboard along with the video. ~ You can enlarge the video to full screen or watch the video in the smaller right hand screen.
Day 2
We watched VIDEO 3 (1 minute 59 seconds). In this lesson, we are introduced to finger numbers through a song. There is a worksheet to color for finger positions one, two and three while watching the video lesson.
Video 4 (2 minutes 22 seconds) introduces Dodi's song. This is a song I've heard sung many times throughout the past few weeks. ~ Later on, the kids learn how to "play" this song. They also color smaller "Dodi's houses." (It's recommended to print these out on card stock or simply glue the printouts onto thin cardboard, like a cereal box.) to place on all of the two black keys on our physical piano.
Next in the video, we practice finding Dodi's house with Ms. Gregor, our instructor. We find that some make a high sound and some make a low sound. Afterwards, we practice with fingers two and three finding Dodi's house on the onscreen keyboard. We are also encouraged to notice the differences (higher and lower) that each of Dodi's houses makes as we play the notes. After the video, we moved over to our physical piano and practiced finding all of Dodi's houses and listening for their differences.
From here on out, we've always explored the GAME feature after a video lesson and at random times during our week. The picture below is from game six. Even though we haven't learned all of the characters presented, (we are nearing the end of Level 1 and this is a Level 3 game) it's still a favorite with all three little ones!
I never did notice using rhythm instruments in our first week of lessons. We have, however, used them a lot in future lessons.
Ages:
It was developed for children ages 3 - 7 in mind. My eight year old enjoyed doing the activities along side her younger brothers, four and six. Even though she's had a year of private piano lessons and knows the activities presented so far. I think this says a lot for the program.
Pricing:
The
Classroom KinderBach is $26.99 and available for download here
. They also offer
lessons online
(first two weeks are free) and the
DVD's are available for purchase
.
Current special pricing offers:
Coupon Code: TOS_crew2012
Expires: 12/31/2012
This coupon code gives 30% off any order - homeschool, classroom, online or DVDs.
Also the KinderBach App is on sale This Friday, Oct. 19th, 2012 ONLY. The app will be discounted over 50%, down to $12.99! No code needed just the link to the Classroom KinderBach app in the App store:
https://itunes.apple.com/app/classroom-kinderbach-school/id534998629?mt=8
Final thoughts:
Private piano lessons are not cheap. To have about a years worth of piano lessons on our iPad, for about the cost of one private lesson is fabulous! ~ Especially for a younger student.
Our private piano teacher recommends beginning thirty minute lessons around age seven. I know my 4 and 6 year olds aren't ready for 30 minute piano lessons. I absolutely love that we can get a "jump start" on lessons at home, specifically designed for preschoolers, for such a wonderful price!
The six games that are included are a great motivational factor that we've all enjoyed. (I like playing the games, too.) I don't think anyone would regret their decision to purchase the KinderBach app.
In my opinion, the iPhone would be a very small interface for the onscreen keyboard. I'm not saying it isn't possible, but I do believe the iPad is a much better choice for this app.
Also, sometimes I find myself forgetting what video lesson we should watch next. There's no way of telling within the app which lesson you left off last. I've had to remember to jot down quickly in our KinderBach notebook (a 3 ringed binder where we place all of our printouts) where we should begin next. ~ A small number of times, I've had to go back to the main menu screen and then back to the Lesson screen to get the next video to play when I tap it. The desired video always loads properly after this second attempt.
There are a couple of issues in the games feature (one game always crashing, others losing specific sounds - clearing the task bar and restarting the app have always fixed the sound issues) that I have been in contact with KinderBach about. The great news is that the developers have pinpointed the issue (Apple changed something considered standard in their code) and Kinderbach's fix has been submitted to Apple for approval. The update should be available soon!
My children are learning an amazing amount of piano knowledge with KinderBach. It keeps their attention, and they enjoy having characters to identify with during the lessons. This program is
perfect
for the preschool age! We love it!
To read what others on the Schoolhouse Review Crew have to say about KinderBach, click the banner below.

Disclaimer: As a member of the Schoolhouse Review Crew, we received the Classroom KinderBach iPad App in exchange for our honest review.