It is not necessary, but do you have a Boy Scout or an American Heritage Girl?
Homeschool Legacy
offers Once-a-Week Unit Studies that accommodate merit badge requirements for each!
You don't have to have a Boy Scout or American Heritage Girl to enjoy and learn from these studies.
Once-a-Week-Unit Studies are Christian centered and designed for grades 2 - 12 to make learning FUN for the student
and
teacher! Currently, there are eleven Once-a-Week Unit Studies. They are all cross-curricular and incorporate many subjects while focusing on one main topic. Below is a list of the subjects covered:
BIBLE

QUALITY LITERATURE

LANGUAGE

HISTORY

SCIENCE

GEOGRAPHY

RESEARCH

ARTS & CRAFTS

ART APPRECIATION

MUSIC APPRECIATION

LIFE SKILLS

FIELD TRIP SUGGESTIONS

FAMILY GAME & MOVIE NIGHTS

STUMP YOUR DAD TRIVIA!
Here is a list of the topics currently offered and the corresponding merit badges:
Science Related:
Birds of a Feather – BSA Bird Study/AHG Our Feathered Friends Badge

Horsing Around – BSA/AHG Horsemanship Merit Badge

Forest for the Trees – BSA Forestry Merit Badge

Weather on the Move – BSA Weather/AHG Young Meteorologist Badge
History Related:
Knights and Nobles – BSA Art Merit Badge

Early Settlers – BSA Reading/AHG Book Adventurer Merit Badge

Christmas Comes to America – BSA Music/AHG Music Appreciation Merit Badge

Native America – BSA Indian Lore/AHG Native American Merit Badge

Revolutionary Ideas: the Story of the American Revolution – BSA American Heritage Merit Badge/AHG Dawn of Our Country Badge

We the People, Getting to Know Your Constitution – BSA Citizenship in the

Nation/AHG Citizenship and Government/AHG Our Flag Merit Badge

Lewis & Clark: From Sea to Shining Sea – BSA Nature/AHG Nature & Wildlife Merit Badge
"Any four combined Once-a-Week Unit Studies will easily satisfy a full course study of history or science, if you choose to use Once-a-Week Unit Studies as your main source of history or science." ~ Homeschool Legacy, Native America p.11
" All Once-a-Week Unit Studies are appropriate for Grades 2-12, though upper levels will still need their lab sciences." ~ Homeschool Legacy, Native America p.11
Suggestions by the Author:
The author gives many suggestions on how to use Once-a-Week Unit Studies. She even includes a weekly sample schedule with read-alouds and unit study reading occurring each day (regular curriculum is used daily except Wednesdays). Wednesdays are set aside for continued unit study reading and read-alouds along with the Once-a-Week Unit Study activities. On this day, you would not use your regular curriculum.
Hence the name Once-a-Week Unit Studies.

It's suggested to use Fridays to study the 3 R's in your regular studies and include unit study reading. Then, use the rest of your day for field trips, family movies and/or games. The goal is to give you a break from your day to day curriculum and make wonderful memories with hands on projects and activities ~ learning that sticks.
How We Used our Once-a-Week Unit Study: Native America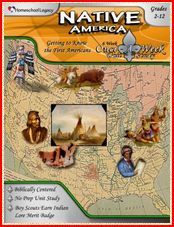 We were excited to be given the chance to review Native America from Homeschool Legacy. My family has strong Native American roots and we were so excited to be chosen to review Native America.
Native America is a six week course covering The Northeast Woodland Nations, The Southeast Woodland Nations, The Southwest Nations, The Plains, The Pacific Northwest Coast and The California/Plateau/Great Basin Nations. It totals 61 pages. There is an abundance of library books and even movie recommendations in each section. In no way is it meant for a family to read all the suggestions!
The above books are not by any means exhaustive of the titles recommended. There's a lot to choose from! A couple are titles I found while pulling recommended books from the library shelf. Many are requests from different libraries.


All the supplies needed for each week are listed at the beginning of each section. Then daily activities are listed such as independent reading and family read-aloud choice. For Week One's focus, The Northeast Woodland Nations, the family read-aloud choice was The Song of Hiawatha by Henry Waldsworth Longfellow. It's not pictured above because this book is available as a free Kindle download. That's the format we used to read through it.
Rectangular boxes are used to point out merit badge activities. Once-a-Week activites are clearly labeled, too. Subject areas are in bold type and underlined with a small picture symbol (sometimes there are more than one symbol) beside the subject's name. The activities are then explained in enough detail to be easily understood.
Here is an example page from week one. I like the clean and easy to read format.
I will say that having to waiting on specific library books that we really wanted to read and just the vast number of fabulous books we collected to read through - and we did read through all of them- put us behind "schedule." We spent almost a month just on weeks one and two due to the amount of extra reading we wanted to do. I think that is GREAT! Reading and truly immersing ourselves in Native American history and culture has been a rewarding experience.
Often, we would break up a days worth of unit study activities into two or more days. We worked at our own pace with our eight year old, included a four and six year old with activities such as art, music, life skills, movies and the family devotionals.
Really, the only section that the younger two didn't participate in to some degree was the research activities.

We LOVED our time spent learning about Native America.
J4 spooning the seeds out of our acorn squash ~ Three Sisters Iroquois Soup recipe (one of two recipes for week one)






Making a wampum beads (week one) - a little differently than suggested. The children wanted to mix many different colors, not just red and blue to make purple. Wampum beads are traditionally purple and white.


Three Sisters Iroquois Soup
Overall Thoughts:
Once-a-Week Unit Studies are comprehensive. I love that all of the research for fine books and activities has been completely thought out and provided within the pages of this great resource. Unit Studies are FUN. For the price, I certainly think the amount of research and quality of the lessons is completely worth it.
We have been able to incorporate a preschooler and first grader into most all aspects of the lessons with our third grader. This study has truly been an enjoyable experience for the whole family! We are learning an infinite amount about our heritage and having lots of fun doing so.
Where to buy and how much is it?
Native America, Once-a-Week Unit Study is available in hard copy format here for $17.95 plus 3.00 shipping/handling.
You can view all of the Homeschool Legacy products here.
The Schoolhouse Review Crew reviewed many titles from Homeschool Legacy. Check out what others thought by clicking the link below.

Disclaimer: As a member of TOS Review Crew, I recieved a digital copy of Native America in exchange for our honest review.