We have had a great opportunity to review a wonderful
research-based
music and movement curriculum,
Music Together Family Favorites Songbook for Teachers
and their Music Together Family Favorites CD.
Tapping toes with egg shakers to the macrobeat (explained in the Songbook) in Biddy Biddy
What exactly is Music Together Family Favorites Songbook for Teachers and CD?
Let's begin with the Family Favorites CD. It includes 19 of the most popular songs from 9 Music Together collections. It's won numerous awards
and includes an informative 32 page booklet that includes a brief introduction titled "Making Music with Your Child" and then "Playing with Your Child", also referred to as musical play. Next, each song has one full page dedicated to one or two suggested activities for the song or further information about the piece - most of the time, it's both. Music Together stresses that no special skills are required of parents, just have fun and find your sense of playfulness. Also included is background information about Music Together and their classes. I particularly like how the booklet is permanently fixed in the middle of the tri-folding cd case. The booklet opens easily in this format and is super handy.
Click here to listen to samples of the songs on the "Family Favorites" CD.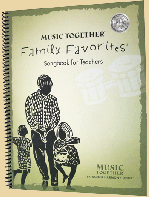 Now let's take a look at the
Music Together Family Favorites Songbook for Teachers
. It is an over-sized, full color, spiral bound booklet with a total of 119 pages. It's specifically designed for people who work musically with children. Some ideas of teacher groups that
Music Together
suggests include, preschools, homeschool settings, early elementary classes, church groups, or clinical settings.
Music Together
states:
This songbook will show you how to create a musically rich environment where children learn to move rhythmically, to sing, and to develop listening and improvisation skills through playful, developmentally appropriate activities.
Each song is followed by "teacher pages" that outline suggested activities for a variety of settings. All song activities and teaching tips are based on the Music Together teaching practices which have been perfected over two decades by thousands of teachers, parents, caregivers, and children all around the world.
Let's now take a look at the inside of the songbook. Page 1 is titled "How To Use this Book". This is a valuable resource. It explains that the songbook has three sections:
Beginning on page 1, the opening section (with list of required instruments ) describes:
The Music Together philosophy and teaching principles. I especially like the SQ principle. We need to develop our SQ or "Silly Quotient". Being playful and fun in a way that is natural to ourselves is key
The types of songs and activities used ~such as fingerplay, focus activities, lap songs or dyads, large movents, and vocables to name a few
How to work with props and instruments ~ for example, it's suggested to use instruments once or twice in a thirty-minute class. The required instruments for Music Together Family Favorites Songbook are egg shakers, rhythm sticks, play-along instruments such as maracas, scarves, drums and other suggested instruments and props are resonator bells, ringing instruments, balls and parachutes
Adaptations for special needs children ~ sensory issues such as auditory, visual, vestibular and proprioceptive, social issues and physical issues. There is a section called adaptive techniques and games with activity suggestions such as Grounding Hug and Push the Wall.
Beginning on page 21, the middle section and core of the program:
Includes all nineteen songs from the Family Favorites CD and their music notation pages with CD track numbers
Introduces each song with an introduction by developer and researcher Ken Guilmartin.
After each introduction, the included teacher pages are organized in four headings adding many helpful ideas and activity suggestions for each category:
All ages and settings
Infants
Preschoolers and older children
and Children with special needs
Beginning on page 101, the final section includes:
Information on Music Together and its licensing program. (The next paragraph touches on licensed use of the program.)
A guitar reference chart and a glossary.
The songbook is meant to "support and augment the practices of those working musically with children. You may apply the philosophy and song activities to any situation in which you are involved....The "songbook is not a substitute for the actual Music Together program...When using these song activities, you may acknowledge Music Together as your source, but- because of trademark and copyright laws-you many not say that your are offering the "Music Together program" or "Music Together Classes," nor may you call yourself a "Music Together teacher". - p.106
How We Are Using Music Together Family Favorites:
Ridin' in the Car
I typically pick four to six songs on the CD, depending on how much time we have, and read through the exercises suggested in the Songbook manual. After reading through the introduction page for each song, I look particularly for the
All Ages and Settings
, plus the
Preschoolers and Older Children
headings for activities. I typically choose at least two activities, one from each heading. I then read the
Children with Special Needs
section. There's always great information there and we usually complete at least one of those activities, too.
For our family, we can get thoroughly through about four songs in thirty minutes and roughly six songs in forty-five minutes. We often listen to one or two favorites twice.
We begin each lesson with the Hello song and the last song we sing is the Goodbye song. This gives a predictable beginning and end for the children.There is really no suggested order to follow in the manual, but the order they are already in on the CD works nicely. We typically begin the next lesson at the place we left off on the CD, but always beginning and ending class with the Hello and Goodbye songs. So, for example if we stop at track 8, Palo, Palo before our Goodbye song our next lesson will begin with track 9, John the Rabbit after singing our Hello song.
Playin' in the Kitchen activity
Here is an example of a few of the ways the Hello Song would be preformed in a lesson:
We practice independent singing in this song by having each child sing their own name alone, "Hello, I'm ...." and the rest of us reply together, "So glad to see you."
As recommended, we also practice different ways to keep beat such as clapping and tap and clap sequences.
One of the special needs sensory activities we like to do is singing while standing and stomping which is a deep pressure experience.
This is a very catchy tune. We enjoy singing Hello to each other at various times of the day, as suggested in the CD booklet.
an example of activity pages in the Songbook






We don't limit listening to our CD just at lesson time. We regularly listen in the car and around the house in general. I often hear the children (and myself) singing a tune from the Family Favorites CD.
The age range for this product is infant - second grade. Our six and eight year old enjoyed the lessons just as much as the four year old! They all LOVE this music and movement product!
Pricing:
If you purchase the
Songbook and CD combo (K0227) together their price is $39.95
this is $5 cheaper than ordering the two separately. Music Together is also offering a special coupon code for an additional $2 off the above combo. Just enter the code "Schoolhouse" at check out.
Final Thoughts:
We have had a fabulous time using Music Together Family Favorites Songbook and CD combo. This is a great course for homeschool parents who are willing to be a music and movement teacher for their own children. The price of outside music and movement classes are well above the price for this songbook and CD combo. With this in mind especially, I do believe the cost for this physical product is justified.
Find out what other Schoolhouse Review Crew members have to say by clicking the banner below.

Disclaimer: As a member of the Schoolhouse Review Crew, I received Music Together Family Favorites Songbook and CD in exchange for an honest review.