A Cry from Egypt is one of the best Christian historical fiction novels I have ever read. I am not exaggerating one bit. Great Waters Press (a division of Raising Real Men) has published a wonderful novel, the first in the Promised Land series.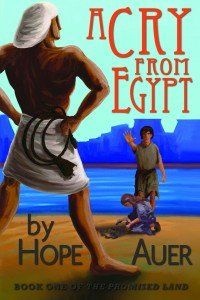 The story takes place in ancient Egypt during the time of the plagues. We are taken into the family of Jarah, a young Israelite girl who is twelve years old. Her father is Hebrew. Her mom is Egyptian. Their family is enslaved. The dynamic of a father who believes in Yahweh, the God of Abraham, Issac and Jacob, a mother that believes in the Egyptian gods and Jarah who is unsure who to believe in, creates a powerful and intense drama. As we follow Jarah on her quest for the truth and freedom, we meet many characters that are richly developed. A small sampling of these characters include her oldest brother Eitan, who is a follower of Yahweh and is a very good influence and source of counsel. He has his heart set on a Hebrew girl, Ada. Ada is the Egyptian queen's personal attendant and many obstacles stand in the way of Eitan and Ada being together. Jahra also has an older sister, Shayna, who among other things is a bit flirtatious with the boys. We see Jarah frowning upon her behavior. Personally, I was happy to see this scene played out in the book. It's great to reinforce proper behavior for adolescent boys and girls from a peer's point of view. There is so much more to this book than the brief accounts above.
The way the author, Hope Auer (a homeschool graduate) writes this story is captivating and action filled not only for children but for adults as well. I found myself thinking about Jahra and her family at various times of the day. To me, this is the mark of an excellent book. C8 and I felt as if we were in ancient Egypt during the time Moses and Aaron confronted Pharoh and each plague was handed down upon the Egyptians. The story is told in a way that we could sympathize with the pain and suffering of being a slave. We felt their desire for freedom and were touched by Jahra's search to trust in the one true God. Ms. Auer makes sure to show there are good people amongst the Egyptians, too.
The historical and biblical accuracy is phenomenal. Ms. Auer uses rich language and vivid details to describe the streets, the clothes, their home, the palace, the characters' thoughts and the hardships they face - your imagination will have no trouble being transported into their story. Immediately following the story is a section devoted to the historical research Ms. Auer conducted. I highly value the extra information contained in this section. It's a wonderful resource that can be used to further your own learning and understanding of the time period.
There are two scenes that may be a bit too descriptive of violence for a younger audience. Spoiler alert: one thankfully is a vivid nightmare at the beginning. The other is not. Both scenes had C8 and I on the edge of our seats. C8 was concerned, but scenes did not adversely affect her.
Final thoughts:
I wholeheartedly recommend this book for anyone aged 8 and older looking for a historically and Biblically accurate read. My daughter and I enjoyed A Cry from Egypt and looked forward to our read-aloud time each day.

C8 and I cannot wait for the sequel!
Pricing: At the time of this review, an advanced reader copy is 12.99. You can purchase it here.
The physical book we received has a total of 193 pages; 176 of those being the main story and additional 8 1/4 pages being a preview of the sequel. The others are acknowledgements, etc.
You may read what others are saying about A Cry from Egypt by clicking the link below.

**Disclaimer: As a member of the Schoolhouse Review Crew, I received this product, at no cost to me, in exchange for my honest review. All opinions are mine.