Today, I'm linking with Collage Friday, iPhone Photo Dump, Weekly Wrap-Up and Favorite Resource This Week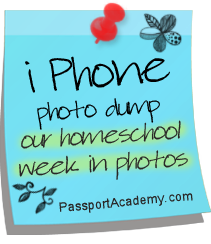 Highlights from the Week of Aug 12 - 18th:
Who remembers the meteor shower?
On Aug. 12th, we stayed up past our bedtime, took blankets and pillows onto our back deck, cuddled close and watched for shooting stars. We saw quite a few. It was such a sweet time of togetherness. The night was beautiful. There was a slight chill in the air. The cicadas and crickets played their music and the frogs sang to us. It couldn't have been more perfect. As a family, we talked about our Creator and "
Oh, How He LOVES Us
" while He showered us with beams of light shooting across His sky, just for ALL of us...
Our basement was in dire need of new flooring. In one full day, the old was out and the new was in. The kids watched every move the carpet and wood installers made...from 10 am til 4 pm. There was NO way for me to drag them away from watching those guys! I'm glad we got a few hours of formal school in before they came! One crew spoke mostly Portuguese and the other mostly Spanish. The kids spoke a little Spanish to the Mexican crew and made sure everyone had plenty of water! I didn't take a before picture, but here are the during and after photos!
the during photos: the bottom photo above is our schoolroom
and after: our schoolroom is just to the left
Our basement is so cozy and inviting. It's amazing the difference new flooring makes. We are so thankful!!
I began training to be an
AWANA
Cubbies leader!! - I'm excited to be participating (once again) in a solid Bible program
outside
of our home-study and Sunday School with the kids.
We enjoyed a swim in our neighborhood pool one morning later in the week. The kids practiced their freestyle and enjoyed racing each other. We also enjoyed a nice swim Friday evening with friends.
and I learned how to take underwater photos with my fairly new iPhone cover!
In addition to our regular studies and online resources like T4L and Reading Eggs, we are enjoying several educational resources we are reviewing for the Schoolhouse Review Crew.
And lastly, we are doing an independent review for
Beethoven Who?
This is a massive, over 300 page music appreciation class in ebook form is appropriate for all grades. It's especially written for parents with NO musical background. It has lots of links to music videos that the kids enjoy. So, far we are loving the class! Mrs. Washburn has offered one copy of her ebook,
Beethoven Who? Family Fun with Music
, as a give away on our blog once we finish our review!!
We watched a few shark week episodes and our Ranger Rick and Big Backyard magazines came, too! (I got a fabulous Groupon deal a few weeks ago!)
R6 finished his Kumon lowercase alphabet workbook! I am so proud of him. Handwriting hasn't been an easy task for my little buddy. Last year I worried a little bit - forming letters was such a struggle. I'm so glad I didn't push him or make handwriting a teary chore. We used Kumon Tracing and Uppercase Letters last year. I also used a Kumon Write and Wipe lowercase alphabet set. I am so pleased to say he has beautiful handwriting and his letters are formed easily! This is an answered prayer! ~ I gave him his first "real" spelling test this week, with a dictation sentence, and my sweetie made a 100! He also began a new Kumon workbook,
My Book of Alphabet Games
. It's a hit, too!
Nearing the end of his lowercase workbook!
We attended two parties, one for a sweet 9 year old and the other for an adorable new big brother!
The baby brother and the delicious cupcakes from Ms. N's 9th birthday party.
Highlights for Aug. 19- 26
We found the best iPad app ever!!
While reading the blog on Reading Kingdom, I came across a post about an app that allows flash on the iPad!! Whoohoo!! After downloading the free version of the suggested app, I quickly discovered the main page was not at all child friendly. Daddy helped me research and we found the same company also makes a child friendly flash app!! It's called
Rover
and it's FREE!! It comes preloaded with many educational sites.
We are so excited to have a way for J4 to use a touch screen instead of the wireless mouse or even the laptop mouse on our windows based computers. Using a mouse was so frustrating to him while trying to play Reading Kingdom. Now that issue is solved. He can simply touch the answers!!
I learned to use a pressure cooker!!
They cooked at high pressure for four minutes. FOUR MINUTES! I am in love!
C8 began piano lessons two weeks ago. She LOVES her lessons and her teacher. We all love Ms. Mary and her family =) Ms. Mary called Wednesday night to share a sweet story about C8. I don't think she'd mind my sharing it, but for now I will just reference it here to jog my memory in the future. ~ Contentment
A sweet third grade friend spent almost twenty four hours with us unexpectedly due to a family emergency. Thankfully everyone is now ok! The girls enjoyed having all of their school lessons together.
We added two new resources this week. All three began memorizing the AWANA verses in their beginning booklets, and we began The Mystery of History Vol. 1. I picked up the first edition at our homeschool used book sale this spring. We've completed three lessons and it is proving to be a very good fit for our family thus far!
We enjoyed baking cookies from scratch this week, too! (
Everyday Cooking
)
And the most wonderful part of this week is ~ Daddy's parents arrived this afternoon (Friday)!!!! We took them out to eat at our favorite Mexican restaurant, saw a sweet friend there, walked over to Yogurtland and settled in for a family movie before bedtime! We are looking forward to spending the rest of our weekend with them!
~J4 loves to vacuum. Here is a sweet picture of him vacuuming under the table moments before their arrival. After our school lessons, everyone pitched in to do extra chores so the house would be welcoming for them.
~Hope