Would you like for your child to know their addition facts quickly, without having to count on their fingers and without spending an arm and a leg? Well,
Addition Teaching and Learning Made Easy
may be your solution!
Addition Teaching and Learning Made Easy
is a six week program designed for mastery of addition facts. Six facts are introduced each week in a thoroughly researched order. According to the author, this program is designed for first and second graders. It is also suitable for special education and an option for kindergarten students.
To my surprise, this method doesn't use drill sheet after drill sheets for memory. In fact, the lesson plan instructs the teacher to begin each lesson with many different concrete objects to visualize the facts being taught. This was an important feature for me. I wanted my fairly new addition student (new first grader) to have more practice with truly understanding what the symbols he is learning about mean in real life. Another nice surprise is the inclusion of games!
Contents of the Spiral Bound Book/Worktext:
The worktext has 64 numbered pages with additional, unnumbered pages of fact cards. We learned during our review that this worktext
is reproducible within the immediate family.
Ms. Brown begins by explaining the philosophy of her method. She next explains how to teach 0's and 1's and then explains the lesson plan for duplicates, or the 36 problems that will be learned over six weeks. She encourages the teacher to work at the child's pace.
There are fun activity sheets labeled for Monday - Friday, with Friday's focus being word or application problems. Again, another real world application approach that I appreciate. You can view five sample pages from the Addition worktext here, where you're able to click individually to enlarge. I've also posted them below.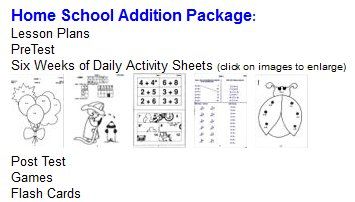 There are weekly reviews, a pre-program test and post program test.
Also included are three games to be used for reinforcing each week's addition facts - one game requires two brads, one needs clothes pins for each fact, and the last recommends laminating the game pieces found on an 8x11 sheet of card stock in the worktext.
And there are perforated fact cards, labeled by week, in the back of the worktext.
How we used the product and Our Thoughts:
We used the product according to the directions. Each day we would practice with concrete examples, our daily worksheet, a game or two and the flashcards. For one of the concrete examples, (I used this idea when my oldest was in first grade) we used linking cubes of two colors to represent the digits presented. This was an easy way to show the commutative property in action - especially since one side of the fact cards shows the addition fact written one way and on the back the numbers are flipped. For example, 9 + 3 = on the front and 3 + 9 = on the back. Hold the linking cubes in a tower showing 9 + 3 = then flip the fact card and the linking cubes to show 3 + 9 = . Clear as mud? Hopefully the picture below will help explain what I'm talking about!
In the first five days, we've had at least four out of six consistently etched in our memory. Not too bad for a beginner student! We've spent a total of seven days per lesson and
the facts are being memorized!
This is what we did on those two extra days. We used one extra day in the beginning strictly for the games provided, flash card review and concrete examples. We then split the Thursday lessons into two days. In my opinion, it's a bit long for a first grader and easily divided into two lessons.
Below, is what Week 1 - Thursday's worksheet looks like (even though it says Friday, it's Thursday and actually page 13 in the worktext). ~ R6 LOVED the algebra! He's seen his older sister work on problems like these and felt like a big guy figuring these out on his own!

I can not say enough good things about Addition Teaching and Learning Made Easy. We've had a positive experience and I do believe the program is worth the price. I don't believe I would use this with a kindergartner, unless their passion is math. I also think this is challenging for a new first grader, but certainly doable.

Pricing and other products:
The homeschool addition package sells for $24.99
here
. Scroll down to the bottom of the page for homeschool pricing.

They also have a multiplication homeschool package that other members of TOS Review Crew are reviewing. I can't wait to read those reviews with our third grader in mind! The multiplication worktext sells for $24.99 on the same page.

Click the banner below to read what other TOS Crew Members thought about Addition Teaching and Learning Made Easy and Multiplication Teaching and Learning Made Easy.

~Hope
Disclaimer: As a member of the TOS Crew, I received this product, at no cost to me, in exchange for my honest review. All opinions are mine.