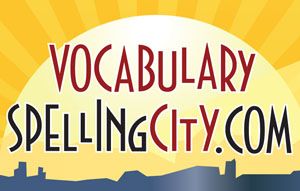 What is Vocabulary Spelling City?
VOCABULARY
SPELLING
CITY
.COM
, Premium have you heard of it? It's an award-winning, extensive web-based spelling, vocabulary, grammar and writing practice (beta) program. This program helps elementary through high school students learn using many activities, games and videos.
It's also a record keeper. It tracks student's progress and assignments. It also gives, grades and records tests. For tests, the program details the words answered correctly with a check mark and the misspellings by crossing through the misspelled word and listing the correct spelling to the right. After a spelling test one can print a Spelling Certificate with percentage correct. This feature seems available only immediately after the test - I couldn't find a way to go back and print completed test certificates.
If you don't have a current spelling program, not a problem! The site has "Useful Word Lists" ready to go. There is even a

55 week Beginning Spelling Curriculum

! There is so much to this curriculum. I am constantly finding new videos and teaching resources.
How WE Used VocabularySpellingCity.com, Premium:
Certificate of Spelling printed after completing a test
I used our current spelling curriculum to make customized spelling lists for C8. I then chose assignments for her to complete on her own. An example of assignments I chose include a test and games such as Hang Mouse, Match it Definitions, and Premium Crossword. All assignments used only the words from my specific list and the teacher's grade book tracked her progress for me.

C8 taking a spelling test
In addition to spelling/vocabulary lessons, C8 and I watched language arts lessons. LA lessons are short videos with printable worksheets, hands on activities and classroom activities. Two examples of topics we explored are parts of speech and antonyms. In the writing practice area, we watched video lessons on subject/verb agreement and crazy commas. C8 then put into practice what she'd just learned with a printable worksheet.
There are times when C8 just doesn't want to do computer work. She'd rather use pencil and paper. VocabularySpellingCity caters to her offline/non-computer based needs. At the time of posting, all premium edition games are printable. One premium edition game we all love is Word-O-Rama. ( "The object of

Word-O-Rama

is to identify words by their definitions, synonyms, antonyms, or by their context within a sentence." ~ online description) Once logged in, to see if a game is printable, just look to the bottom right hand corner of the game's name for the printer icon. Most free games can be used as a printable worksheet as well. (It's important to be logged in, with a list loaded. Otherwise, the printing icons will be invisible.)
With R6, I printed out customizable handwriting practice worksheets using his spelling list. I let him chose the games to explore on his own, and I sat beside him to offer help when needed. Typing is a new skill for my little buddy.
We played the free VocabularySpellingCity.com app on our iPhone. There is an option for Premium Members to sign in and use their individual spelling lists.
Our Thoughts:
Having this online spelling resource has been especially wonderful while traveling. C8 and R6 were able to practice their spelling words on the go without packing anything besides our laptop. I like light packing!
They both enjoy learning through games, whether they are online, an app or printable worksheets. The certificates always bring big smiles to their sweet little faces. This has been a fun review and we will continue to use
VocabularySpellingCity.com
.
Premium Pricing at the time of posting:
For families of
up to 5 students
the cost is only 29.95
per year
. To me, it is completely worth the price of a premium membership. For classrooms of up to 25 students, it's only 49.99 per year. One may find out more about
Vocabulary Spelling City Premium Memberships here
.
Below is a table of features comparing the
free, basic program
with the
paid, premium program
. As one can see, the Premium features are extensive and include
no
commercial banner ads.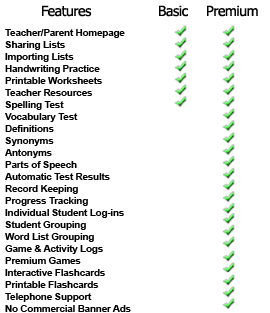 Lastly, here is a video, from Vocabulary Spelling City, explaining the features of their premium program.
~Hope
Read what other crew members are saying below.

I received VocabularySpellingCity.com at no cost to me, in order to complete an honest review with my children. All opinions are completely our own honest thoughts.