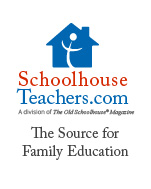 SchoolhouseTeachers.com
, a division of The Old Schoolhouse Magazine, is a thorough online resource for all of your education needs, from Pre-K through high school. It is designed to aid homeschool teachers in quickly finding ready to go lessons. Each lesson is developed by a leading expert in their field, in virtually any subject, along with an abundance of extras and features.
I do have a confession to make. I found myself in information overload the first night I logged on. Luckily, it was after the kids were in bed. I spent two hours exploring and becoming familiar with SchoolhouseTeachers. There is so much fabulous information packed into this one site. I was and still am completely amazed. I do have one more confession. I didn't watch the introductory videos. My night would've been much easier if I had. Nonetheless, now that I am familiar with the layout and content of the website, I can easily and quickly find lessons and activities to benefit our family.
Allow me share with you how we've used SchoolhouseTeachers.com:
I like opening the site and looking for spontaneous inspiration and going with that lesson, right then! It's nice to change the pace of the same ol same ol and spruce things up a bit! ~ Some lessons, for example Everyday Easel art classes, which are absolutely phenomenal, or craft classes usually require additional materials.
We all loved Pre-K Activities: Read and Play.

The lessons include activity ideas to go along with a piece of literature such as

If you Give a Mouse a Cookie

and

Panda Bear, Panda Bear, What Do You See?

The lessons are generally two weeks long per book and include about five activities per week.

In the Craft Shelf section, under August, we found a recipe for Kolaid playdoh! Super fun and easy!
We read Misty of Chincoteague and followed the Literature class guided lessons or as the author (Adam Andrews from Teaching the Classics) calls it, conversations. This particular lesson is a four week course. All lessons focus on reading comprehension and literary analysis - we used story charts for the first time!
I printed numerous, fabulous notebooking pages found in the Schoolhouse Planners.
We enjoyed reading through the July Monthly Theme: Grasping a Foreign Language and discovered how learning one can benefit each of us.
The July Reading List, which contains book recommendations based on July's theme, Foreign Language, is fabulous! I'd never heard of The Avion My Uncle Flew. We've already read through many of the recommendations! (June's Reading List is all about Art and Art History! Lots of fun reads here, too!)
Daily Grammar is something we'd try regularly, also. I'd just look through the topics and pick an appropriate skill for extra practice.
There are many more we've tried, but there's so much more I want to share with you. So, I need to get on with the review! ~ I will be listing several sample lesson pages, too!

To help give you an ever bigger peek into SchoolhouseTeachers.com, I will link to introductory videos (the ones I should've watched first!), list the classes offered, extras, and features.
I believe you will find SchoolhouseTeachers.com will please a wide range of homeschool philosophies and learning styles.
Here,
is the link to the introductory videos I promised.

Now, lets take a closer look at the contents of SchoolhouseTeachers.com and a few sample pages.
When you click the SchoolhouseTeachers tab you will find a short bio of all the expert teachers. Under the SchoolhouseTeachers tab are the following links:
Career Exploration
Chemistry
College Choice Guidance
Economics
Figures in History view a sample lesson here
Filmmaking
Geography
High School Math view a sample math lesson here
History Home Economics
Lapbooking
Literature
Music-Voice view a sample music lesson here (this is for the whole family!)
Reading Lessons
Special Needs
Technology
Writing view a sample writing lesson here (this can be applied across all ages!)
And the list will grow!
The second tab is Schoolhouse Dailies. Here you will find daily lessons for many subjects! The links include:
Daily Grammar
Daily Math
Daily Writing
Ditch the Desk view a sample lesson here (a hands on unit study for grades K-5)
Everyday Easels
Everyday Explorers: Canada
Everyday Explorers: USA view a sample, journal-based, lesson here
Pre-K Activies: Read and Play
Summer Shakespeare view a sample lesson here
This Day in History
This Month's Menu
The next tab is Schoolhouse Extras. I can't wait to share with you what's under this tab. It's many peoples' favorite resource. It's worth far more the subscription price AND it's considered an EXTRA!
The Old Schoolhouse Magazine ~ the current digital issue
TOS back issues ~ approximately 19 digital copies dating back to 2007
Free E-Book ~ a new TOS e-book each month available for download
Schoolhouse Expo ~beginning this month SchoolhouseEXPO webinar recordings will be posted
The five Schoolhouse planners include:
Big Planner

Primary Planner

Intermediate Planner

High School Planner and

Special Needs Planner
While looking through the Primary Planner, I found notebooking pages galore! There could be a full review devoted entirely to just the planners.
As if this isn't already enough, there is yet another tab with valuable curriculum resources entitled
Schoolhouse Library
. It includes:
Copybooks

Homeschool Life ~ articles for days you need a little encouragement

Monthly Theme

Reading List June

Reading List July

Reading List Summer

Teacher Lessons Archives ~ here you'll find quick links to Schoolhouse Teachers' lessons archived by month, with lesson titles included

Art Shelf

Craft Shelf

Homemaking and Housecleaning Shelf

Nature Shelf

Spelling Shelf
As we get close to the end, we find

the

Schoolhouse Site Tour

tab. It's a must to click the actual tab because what's inside is invaluable to help learn and navigate your way around the immense wealth of information included in Schoolhouse Teachers and Schoolhouse Dailies.

There

are two videos:
How you use our Schoolhouse Teacher Lessons
How to use our Daily Studies
Under the tabs, you'll find:
Testimonials
What's new ~ a list of new content by month
Finally, we find ourselves at the newest and last tab titled
Schoolhouse Samples
. This is a tab that I've linked to numerous times in the body of this review.
Here
it is one last time!
Pricing:
The first month is offered at just $1! There after it is only 5.95 a month.
You can cancel anytime.
There is also an option to purchase a year long membership for a 10% discount price of $64.26. You can view the sign up page
here
.
Final Thoughts: SchoolhouseTeachers.com is an immense website offering inspiration and guidance to homeschoolers. If you find yourself overwhelmed by the possibilities, that's ok. I did in the beginning! Don't hesitate to reach out to SchoolhouseTeachers.com. Everyone is super friendly and eager to help!
I am more than pleased with the content and intend to continue to supplement our studies with SchoolhouseTeachers.com.

~Hope

Disclaimer: As a member of the TOS Crew, I received this product, at no cost to me, in exchange for my honest review. All opinions are mine.